Firefighter Rescues Tiny Hummingbird, Nurses Her Back To Health
On Tuesday, Seattle-area firefighter Andy Reilly was rushing out the door on a call when he noticed what looked like a large moth lying on the station floor. When he stopped for a moment to take a closer look, he discovered that it wasn't an insect - it was actually a tiny hummingbird, in need of help.
"The doors of the bay had been closed for hours," Reilly wrote on Facebook, as reported by news station Q13 Fox. "It must have gotten exhausted flying around inside."
By the time Reilly got back from the call, the tuckered-out little bird's condition hadn't improved, so he decided to do what he could to save it. He fashioned a makeshift nest out of a rag and drove the hummingbird to his house, stopping to buy some food along the way.
Once home, Reilly read on the internet that putting stunned hummingbirds in a warm spot can sometimes rouse them. He placed his tiny patient on the dashboard of his car for a while, and sure enough, the bird came to.
"After about 10 minutes of being in the sun it started breathing normally and waking up. I fed it some food from a dropper," wrote Reilly, who captured video of the bird regaining its strength.
And thanks to the firefighter's efforts, the tiny rescue had a happy ending:
"I kept feeding it every few minutes and it would sleep in between. Finally it flew off into the apple tree, and then to parts unknown."
But this certainly isn't the first time that a firefighter has leapt into action to help an animal in need of rescue. In fact, it happens more often than you might think.
Just last week, emergency crews in Australia successfully saved a koala that was injured in a car accident by performing CPR to bring it back to life.
When a line of little ducklings fell deep down into a storm drain last May, rescue crews in Staten Island didn't hesitate to help. It took a team effort to lift the heavy metal grate and scoop up the little birds to safety, reuniting them with their understandably worried mother.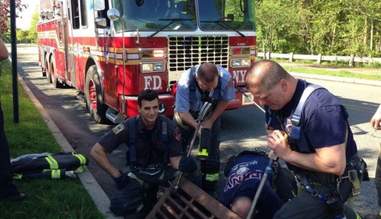 (Photo: Karen Williams)
Some fire crews come equipped with oxygen masks suited for dogs and cats, but when it came to helping a pet tortoise suffering from smoke inhalation from a house fire, these rescuers in England had to improvise. They fashioned a small tent out of some protective gear, put the lifeless animal inside, and pumped in oxygen. Within a few minutes, the tortoise began to move again, and not long after, was "marching around the garden as if nothing had happened."
(Via Manchester Evening News)