For every animal lover or anyone with a passion for marine conservation, "Finding Nemo" is one of Pixar's most loved creations. If you don't know the story, it simply involves a father searching the oceans for his lost son Nemo, who has been captured and placed in a fish tank in Sydney. Watching these comical animations navigating their way across the ocean, we encounter many different species, and their varying interactions with one another. The characters are endearing, but the real species are even better! Let's meet some of them.
Ocellaris clownfish
The rebellious Nemo and his over-protective father Marlin belong to the ocellaris clownfish family, also known as the false percula clownfish; a name that causes Marlin great difficulty as he struggles to tell jokes. Residing in the Indo-Pacific Ocean, they can reach a length of eight centimeters, although they rarely make it to five centimeters when kept in a tank. Clownfish are not born with a pre-determined sex, and develop into males and females depending on the hierarchy of their school. A pair will then lay their orange eggs along the base of an anemone, creating a protective layer. Unfortunately for Marlin, his eggs and his wife become the victims of a hungry barracuda, leaving Nemo as the sole survivor.
The blue tang (Paracanthurus hepatus)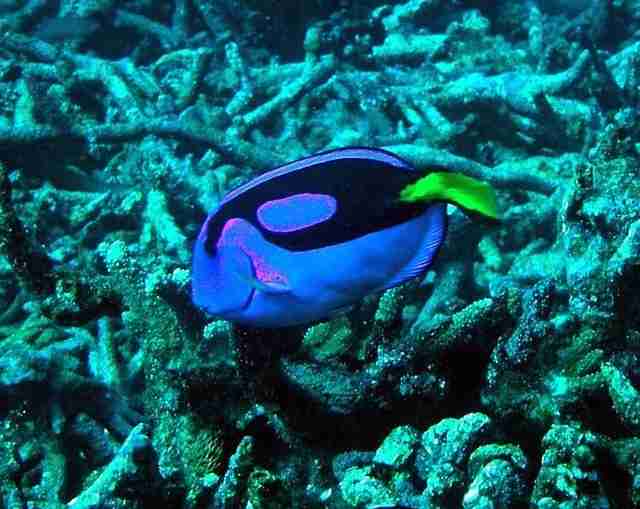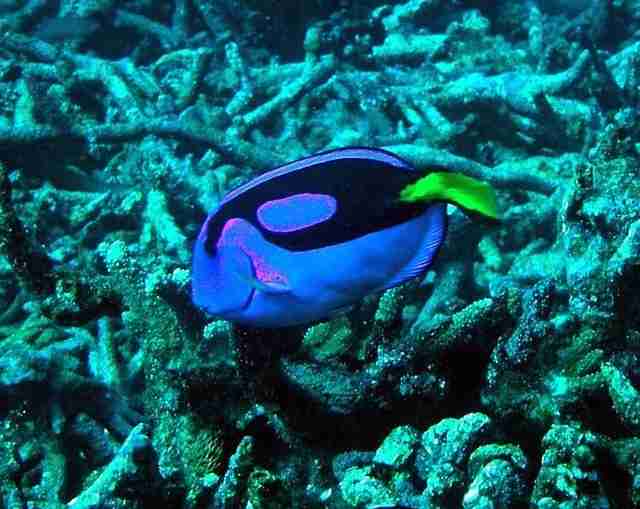 In Marlin's desperate panic to find his only living son he crashes into Dory, the loveable yet frustratingly forgetful blue tang. Also found in the Indo-pacific, Dory and her friends can be found in the reefs of East Africa, Japan, Samoa, New Caledonia and of course the Great Barrier Reef. They exist on a diet of plankton and algae and generally live in groups of up to 12 others. Their beautiful colors and thin rounded shape make them attractive pets, and so they are fished predominantly for the commercial aquarium trade.
The great white shark
Great white sharks are the largest predatory fish on Earth, which is pretty unfortunate for Dory and Marlin, who encounter the sharp toothed Bruce on their travels. Great whites grow 15 feet (4.6 meters) on average in length and can weigh up to 5,000 pounds. Their grey upper bodies enable them to blend in with the rocky coastal floor, but they are famous for their bright white under bellies. They are currently listed as endangered due to overfishing and accidental catching in gill nets, although there is no reliable data regarding their numbers or exact whereabouts. They have powerful tails that can propel them through the water at speeds of 15 miles per hour, but they are strong enough to leave the water entirely when attacking their prey from beneath. With an exceptional sense of smell and 300 teeth arranged in strategic rows, they are highly effective predators. Luckily for Marlin and Dory, Bruce has vowed himself to vegetarianism, but like all animal instincts, he struggles to quell his impulses completely.
Scalloped hammerhead shark and the mako shark
Bruce is not alone in his unusual decision to abstain for meat eating. He is also joined by the scalloped hammerhead shark and the mako shark, in his seemingly impossible mission. Hammerhead sharks are also competent predators, using their unusual hammer shaped heads as an advantage. Their wide set eyes gift them with a vast ranging vision, allowing them to triumph over competitors, as they scan the ocean for food. Residing in temperate waters, hammerheads are often involved in mass summer migrations, seeking cooler waters close to the shoreline or farther out to sea. The scalloped hammerhead is not considered as a threat to humans, but it is listed as endangered on the IUCN Red List nevertheless. Shortfin mako sharks are much smaller, but they are the fastest of all, and can leap nearly six meters above the water. Small but mighty, they are renowned for their fighting abilities, but generally feast on small fish such as sardines and mackerel.
Hawksbill sea turtles
Arguably the coolest ocean dwellers in the film, a group of hawksbill sea turtles help Marlin and Dory to ride along the East Australian Current. These turtles are prolific in the tropical waters of the Atlantic, Indian and Pacific oceans; avoiding the deep waters, they prefer the abundance of sponges and nesting sites offered on the coastline. Hawksbills are smaller than there shelled counterparts, reaching around 114 centimeters in shell length and 150 pounds (68 kilograms). Their shells are heart shaped when young, but become elongated as they age, and their heads are tapered into a beak like point (hence the name). Partial to eating sponges, they are omnivores, and will eat many things, including algae, crustaceans, fish and jellyfish. Like many sea turtles, hawksbills are severely endangered, mainly due to human actions. Not only are they accidentally captured in fishing nets, but their eggs are eaten worldwide and they are often killed for their flesh and magnificent shells.
By Camilla James Interested in finding out more about these fishes' underwater world? Dive on some of the world's best dive sites and help protect endangered marine flora and fauna with any of Frontier's marine conservation projects.
Join the Frontier Community online with Facebook, Twitter, and Pinterest.