Dozens of dogs rescued from horrible conditions were pampered for the first time in their little lives, thanks to dedicated volunteers.
Animal rescuers for San Bernardino County, California, took the nearly 200 neglected puppies from what was thought to be a puppy mill and brought them to the Devore Animal Shelter on Wednesday, CBS2 Los Angeles reported. The plan is to put the puppies up for adoption, but before they were ready to meet their forever families, they needed a little TLC.
That's when volunteers from nearby Cutie Pie's Grooming in Redlands stepped in.
"When they called me, I pulled up a team, shut down my shop and we went there for the day," Pam Morrissey, the owner and operator of Cutie Pie's, told The Dodo. She said they were able to give full grooms and baths to at least two dozen of the dogs.
"They were really bad - a lot of them who needed to be groomed had hair tangled with their feces," she said, "and their paws were stained yellow with urine."
Morrissey said that the dogs, who seemed as though they hadn't had human contact before, were fearful at first but gradually warmed to the team of groomers. "Halfway through you could feel their little bodies relax. By the end they were completely different dogs."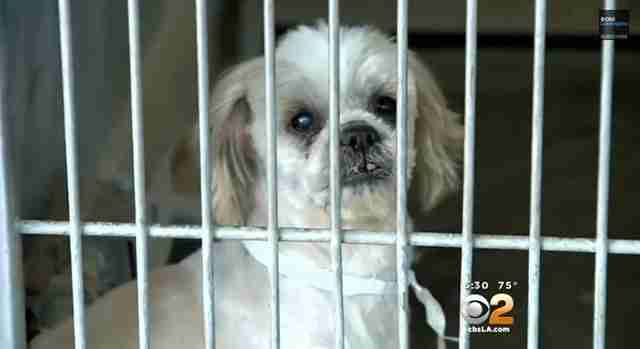 Animal control officer Doug Smith told CBS2 that the situation from which these pups were rescued "appears to be a puppy mill, just by the nature of the percentage of males to females." The dogs will reportedly be up for adoption starting next week.
Hopefully the dogs will have plenty more chances to learn what human love feels like. For now though, Morrissey is confident that they're happy to be clean and comfortable.
"They want to get that stink off of them, the poor little things," she said.
The Devore Animal Shelter, like many other shelters across the country, has plenty of animals waiting for adoption, including those who don't always make the evening news. If you're ready to provide a forever home for a pet, visit a local shelter or search Petfinder for rescued animals who are waiting for families.