Finally Free: Sunder The Liberated Elephant Frolics In His New Home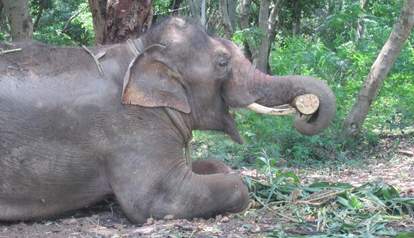 At long last, Sunder the abused elephant, long the focus of animal welfare advocates, has been moved to a rehabilitation center. The elephant, who was embroiled in a long legal battle to remove him first from a temple in Kolhapur, India, next from a makeshift "sanctuary" where he was beaten, has finally found a new home at a 122-acre forested elephant care center in Bannerghatta Biological Park.
Thanks to activists led by PETA, Gone are the chains and bullhooks -- replaced with pastoral fields, lush foliage and even a lake for wading.
And for the first time ever -- Sunder is socializing with elephant friends -- 13 of them, to be exact.
It's only been a day so far, but we have to imagine Sunder is finally enjoying his newfound freedom.