Film Legends' Next Revolutionary Project: Personhood Rights For Animals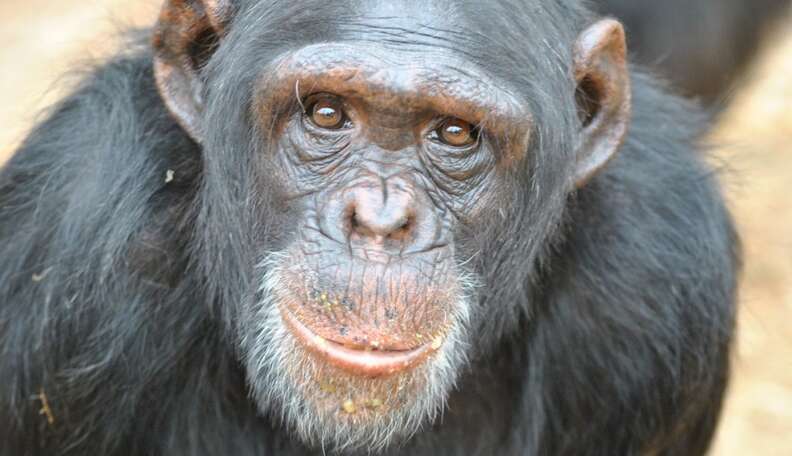 (Above: Steve Wise and Kiko at the Iowa Primate Sanctuary)
Legendary documentarians Chris Hegedus and D.A. Pennebaker have more than half a century experience capturing cultural shifts, and their latest project -- one that might prove the biggest effort of them all -- is a film called "Unlocking The Cage." It promises a close look at animal rights attorney Steven Wise and the Nonhuman Rights Project as they try to change common law to give some animals -- such and chimps, elephants and cetaceans like dolphins and whales -- a few of the same critical rights as persons, such as the right of bodily integrity and liberty. His case, on behalf of four chimps, has made its way to the New York appellate courts and received worldwide attention -- with Hegedus and Pennebaker following every step of the way.
The duo aren't new to capturing cultural earthquakes just as the shaking begins. Pennebaker's unbelievably close-up portrait of Bob Dylan in "Dont Look Back" and the concert film "Monterey Pop" helped define the 1960s. He and Hegedus teamed up professionally in 1976 (marrying in 1982) and along the way created the ultimate campaign documentary -- "The War Room," in 1993 -- a searing portrait of the exploding Internet bubble of the early aughts ("Startup.com," which won an Academy Award in 2002) and the sugar rush of the foodie movement (2009's "Kings of Pastry").
Michael Moore credited him with helping "invent the modern documentary." And "Blackfish" director Gabriela Cowperthwaite says of the team: "'War Room' has permanently imprinted itself on my documentary psyche. In some ways, these guys invented verite. And now they're making a film with Steven Wise about animal personhood. Groundbreaking filmmakers meet groundbreaking advocate. It doesn't get any better than that."
But the cost of following nonhuman personhood case -- with no clear timeline or predictable result -- is proving a challenge for the veteran team (Hegedus is 61; Pennebaker, 88). They're launching a Kickstarter campaign to help them continue their film, and highlighting the legal case in a new Op-Doc for the New York Times, which also profiles Wise in this week's Magazine. They're eager to draw more attention to Wise's case -- and theirs, as they seek to keep covering it.
The Dodo spoke with the couple recently at their home in Manhattan's Upper West Side.
What was the trigger to make this movie?
Pennebaker: When I heard about [Steve Wise's lawsuit], it just grabbed me. We had a dog who was very instrumental in changing our lives . . .
Hegedus: Here he is, Bix, here [pointing to a photograph pinned to the wall]
Pennebaker: . . and I can't explain it exactly. I've always kind of loved animals. But there was a profound sense of animalism which I can't explain at all. But when he died, which of course, that's the problem, dogs go before you want them to and you don't expect that. I found this profound loss, which I still feel. He was part of our lives.
I'd never met [Wise], but the idea of someone who had a similar sense of animals, and wanted to do something really earth-shaking - and it is a really earth-shaking idea. And there aren't really a lot of earth-shaking ideas. Presidents think they have them, but they don't. And I thought, that's really something worth working toward.
Hegedus: For me, when we make our films, we're dropped into all these different worlds that we never knew about. And it's a very privileged position in some ways because you get to know so much that wouldn't know about unless you come in with cameras. And this was a real eye-opener for me, even as someone who loves animals. I never really understood the extent to which they were abused, I never understood the extent that animal welfare laws are not effective. And just how smart they are.
The idea of personhood status for non-humans, though, is still challenging to some animal lovers. Did you have to make a big leap to follow it this closely?
Hegedus: I made a big leap. It was a leap just hearing what Steve wanted to do. I didn't understand what personhood meant.
Pennebaker: The thought of using the law, which we encounter all the time, to benefit animals, just hit me like a hammer. I thought, Of course that's what you should do. And only a lawyer could do it. We want to have anti-cruelty laws and what not, but we know those are only as good as the people who are watching. But the idea of bringing animals under the law was such an amazing and to me, realizable, idea. It's time has come.
(Steve Wise with Jen Feuerstein, Sanctuary Director, of Save the Chimps)
Your output through the years has been really remarkable, so I imagine you have to be really greedy with your time, right?
Hegedus: We sometimes let our passions get in the way sometimes. [They both laugh.] And if the person is trying to take a personal risk. . .
Pennebaker: Passionate.
. . . and it means everything to them. Those are type of characters we push for, whether its Jacquy Pfeiffer in our last film "Kings of Pastry," or Steve, who has spent his whole life, really, pursuing this very exacting goal, that he's written books on. He's been so patient in the whole process. That's the type of person you look for, who it means the world to.
But it makes it especially hard for us, as filmmakers, for a project to go on this long without knowing the ending. People like to buy things or fund things when they know the ending. This happens to all our films. It's a gamble. When we were in the "The War Room" with the Clinton campaign I think it was the same thing. If they had lost, it would've had a film about the staff of a losing candidate, a totally unsaleable film.
But did you have a sense, while filming the "The War Room," that Clinton would win?
Pennebaker: It's not a sense, it's like a horse race: You bet. Then that's all you think, that your side's going to win. There was a moment, on Election Day, when something came up from CBS that said we could lose, and I thought, Impossible! What could she be talking about? Once you cast yourself, it's very Roman. You can only see the outcome in your favor.
So do you have a pick this time? Is your side going to win?
Pennebaker: Oh, absolutely!
Hegedus: He's the optimist Pennebaker: If we were only looking for a winner we would never have done "Kings of Pastry," although we assumed he would win because he was so good. But that didn't ruin the film when he lost. It just made us think harder and dig deeper. And in this case, I think [Wise] may well lose. But the people backing him tell you that the issues are going to come up that will never go away. And that's really as important as winning.
Your films so often capture a giant cultural moment. I'm wondering if you're aware of it when it's happening -- and if you feel it with this.
Hegedus: I definitely was aware of it for "Startup.com," because I'd been hearing about what had been happening with all this venture capital money and the Internet and it was really intriguing to me. Some others, when we did "Kings of Pastry," chefs for a time became sort of rock stars for a brief moment, and I think we hit on that.
It's definitely a moment now. It's been there in a lot of different ways, whether it's about people writing about not eating animals or how we're abusing animals in agriculture and the food industry. How smart they are, not just how cute they are, and why we should protect them. It's the time for animals right now.
Is this one of the longest it's taken for you to finish a film?
Hegedus: Getting to be there.
Pennebaker: . . ."The Energy War."
Hegedus: "The Energy War," on Jimmy Carter's natural gas bill, had the longest filibuster ever, that was a really long process. But this is inching into getting to be longer.
And you still don't know when it will end!
Hegedus: And we don't know when it will end.
Pennebaker: He's willing to spend the rest of his life on it. And boy, that's something, you know.
And are you willing to spend the rest of your life on it?
Hegedus: No, but I'm just too curious to not get to the next step.
Pennebaker: He started climbing this miserable mountain, and he knows in a sense, more than we do, what the risks are. And we sort of have to go with him. That's our role. There may be easier ways to make films, but when we pick something, you go with it.
https://www.rebelmouse.com/theunzoo/%5D