For most of his life, Max had to fight for every breath he took.
And when, at last, he was rescued from a dogfighting ring and thought he could breathe easy, he was very nearly sentenced to another kind of life.
A life of complete isolation. Max arrived at Dog Tales Rescue and Sanctuary in Ontario, Canada, with a terrible warning.
"When we agreed to take Max in we were told that he would never be able to interact with other dogs and that he would need to live out the remainder of his life with no socialization with other dogs," Clare Forndran of Dog Tales Rescue and Sanctuary tells The Dodo.
And sure enough, when Max first arrived, he reacted badly to other dogs. It was, after all, the only response he knew.
Max had to be kept in a special room, where he couldn't even see another dog.
Little by little, the staff and volunteers edged the 3-year-old American bulldog into social settings.
"It took months," Forndran explains, "but he finally reached a point where he could comfortably walk past other dogs on our trails, or even sit beside other dogs without reacting."
Still, he had to be muzzled and on a leash.
But little by little, Max got more comfortable.
He began to look forward to being with the other dogs. Finally, his muzzle was removed.
On that day, several members of the Dog Tales team cried.
"To see how far he has come in a year is truly incredible," Forndran says.
Today, Max is hailed as a "play group rock star." A dog for all seasons and all situations. In fact, he's so profoundly social that staff at the sanctuary use him as a "helper" - a dog who specializes in helping others overcome behavioural issues.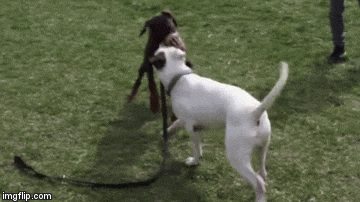 Dog Tales Rescue And Sanctuary
"We like to think that he is such a great helper dog because he understands what these dogs are going through, as he was once in their shoes," Forndran says.
And, indeed, those shoes were made for running.
Dog Tales Rescue And Sanctuary
Dog Tales is currently involved in a court battle to save the lives of 21 dogs seized from an Ontario fighting ring last November. The fate of the dogs is up to a provincial court, where the Ontario SPCA has made a request to have the dogs euthanized.
Those dogs, like Max, deserve a second chance at life.
Support Dog Tales in its bid to give every dog the happy ending he deserves.
Watch a video of Max below.