Feds Consider Bluefin Ban To Save Tuna From Extinction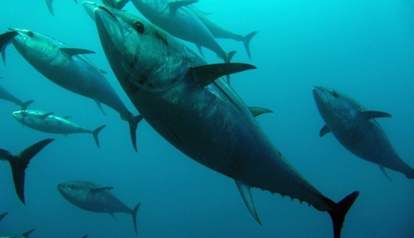 There are just 40,000 adult Pacific bluefin tuna remaining in the wild today -- four percent of the fish's historic average. Because of this sorry statistic, the fisheries division of the National Oceanic and Atmospheric Administration (NOAA) is mulling a ban on both recreational and commercial fishing of the species in an effort to save it.
Highly sought after as an expensive ingredient sold in many if not most sushi restaurants, 90 percent of Pacific bluefin tuna caught are juveniles who haven't had the chance to breed before they die. The catch is fueled by insanely high demand -- prices have reached $1.76 million for a single fish of late.
The species is a perfect example of a phenomenon the renowned fisheries scientist Daniel Pauly calls the ocean's shifting baseline. Part of the theory shows how the individuals of a species become smaller as the group gets overfished. Now, the tuna we are catching are smaller than they were decades ago, but they are still valuable to fishers because our baselines -- our standard of the value of the fish -- is adjusted. As Pauly said in his TED talk on the topic, "We adjust our baseline to the new level, and we don't recall what was there."
But, thankfully for the tuna's sake, there are people who are noticing the rapid decline in population -- and they're trying to do something about it. The Center for Biological Diversity petitioned NOAA in April to consider putting the Pacific bluefin tuna on its list of endangered species along with Atlantic and southern Bluefin tuna. NOAA's consideration is a big step in the right direction, they say.
"The initiation of this important process provides a glimmer of hope in a sea of bleak news for Pacific bluefin tuna," said CBD Attorney Catherine Kilduff in a release. "Saving Pacific bluefin tuna from the world's insatiable appetite for sushi requires action at all levels, starting with protection in U.S. waters."
The species has been at the center of a hot-button debate recently. Pew Trusts even produced a handy step-by-step outline as a guide to recovering tuna stocks:
The battle is slow, however, especially when it comes to the international community. Just last week, Inter American Tropical Tuna Commission (IATTC), announced it was delaying discussions on fishing quotas until October after Japan, Korea, Mexico and the U.S. could not agree on conservation measures. The EU commission said that IATTC "failed to adopt any conservation measures on Bluefin tuna, despite strong scientific advice."
Back in the U.S., if NOAA goes through with the ban, the U.S. will be following in the footsteps of Mexico, which earlier this month shut down bluefin tuna fishing in Mexican waters for the remainder of 2014 -- a move that was praised by conservationists.
Bluefin tuna -- and other types of tuna, for that matter -- are under-appreciated for their often shocking abilities (they can swim at speeds of 45 mph, and thrive in both bitterly cold and warm tropical waters). See this post for more about the incredible tuna.