Trombone-Playing Farmer Serenades Cows With A Christmas Carol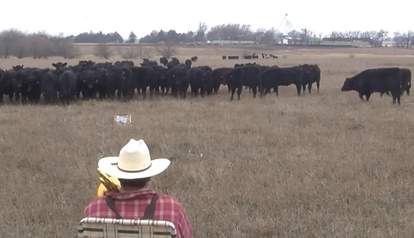 <p>YouTube/Farmer Derek Klingenburg</p>
Cows may not be the biggest fans of cow bells, but they evidently love "Jingle Bells" - particularly when it's being played on the trombone by a farmer on a lawn chair.
Derek Klingenberg recently decided that the cows on his family's farm in Flint Hills, Kan. deserved a present, so he packed up his brass instrument and headed out to the field where they were set to graze. After blowing just a few notes, the Christmas carol-loving cattle started to shuffle in for a better listen.
Word of Klingenberg's impromptu musical performance apparently spread quickly among the cows, and soon the once-empty spot was filled with a rapt audience of bovine audiophiles.
But music wasn't the only surprise. The farmer also brought along a gift-wrapped box full of popcorn.
This isn't the first time that Farmer Klingenberg has serenaded his cows with a musical number. Earlier this year, he surprised them with a trombone rendition of the Lorde song "Royals," which, judging from the attention it got, was equally well-received.
While watching the cows' curious reaction to the farmer's songs is certainly sweet, there's real science behind this phenomenon. One study found that listening to music can actually boost milk production in dairy cows by helping them to relax.
And given what a stressful time the holiday season can be, who couldn't use a bit of that?
Watch the entire cow serenade below: