A killer whale who made headlines in the 1970s is back in the news nearly 40 years later - this time, for reaffirming his species' remarkable longevity when allowed to live free in the wild.
The animal's first brush with fame occurred in 1977 after he ventured miles up the River Foyle in Northern Ireland, settling for several days in the town of Derry. Before finally making his way back out to sea, crowds had gathered by the thousands to see him, dubbing the wayward whale Dopey Dick.
Afterward, no one knew what became of the famous orca - that is, until recently.
When photographs of Dopey Dick from 1977 were posted on Scottish Orca's Facebook page last year, killer whale expert Andy Foote was surprised to recognize his dorsal fin. That individualized feature appeared to be the same as a whale named Comet, a known member of a pod called the West Coast Community of Britain and Ireland.
"The photographs [of Dopey Dick] were all quite grainy, but it was still possible to see some of the distinctive features unique to Comet," Foote said in a release. "I couldn't believe it - he was already a full grown male back in 1977, when I was just five years old!"
Foote and researchers from the Hebridean Whale and Dolphin Trust say that Comet was at least 19 years old in 1977, making him at least 58 years old today.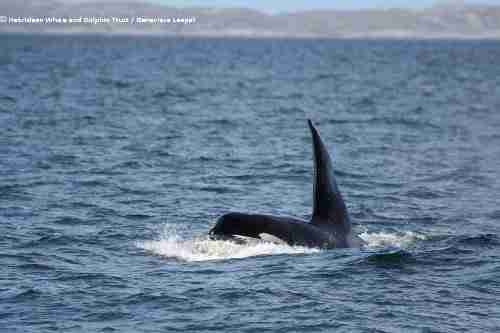 What makes the discovery all the more remarkable is the fact that the average life expectancy for male killer whales in the wild is thought to be around 30 years, with 50 to 60 years being within the upper range.
While the discovery of such a long-lived orca helps shape our understanding of their longevity in the wild, it also underscores the plight for those held in tanks at marine parks. According to the group Whale and Dolphin Conservation, many captive-born orcas don't live past their teens.
Click here to read more about Comet and the West Coast Community orcas on the Hebridean Whale and Dolphin Trust website.