Woman And Her Dog Give Birth On The Exact Same Day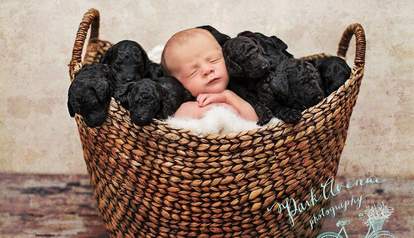 <p><a href="https://www.facebook.com/ParkAvePhoto/photos/pb.210265482361995.-2207520000.1441732952./896811060374097/?type=3&theater" target="_blank">Facebook/ParkAvePhoto</a></p>
August 12 was a very, very big day for the Denlay family of Chico, California - the crew grew by 10 members when Kami Denlay gave birth to a baby boy on the same day that the family dog had nine puppies.
"We totally didn't expect it," Kami Denlay told local outlet KRCR. She gave birth to son Brydon about three hours after the family's goldendoodle had nine new puppies.
The family will be keeping one of the pups permanently, but the rest will go to other homes. While all the newborns are still together, the family organized an adorable photoshoot.
Teresa Raczynski, who photographed the babies all together, shared the results on her Facebook page.
Things will calm down some at the Denlay home once the puppies are old enough to go to their new families, but for the rest of his life, Brydon will know that he had a very special, very chaotic birthday.
Enter your email to receive a free Dognition Assessment, exclusively for Dodo readers:
Enter your email to receive a free Dognition Assessment, exclusively for Dodo readers: