An unsuspecting family was outside in their garden in North Carolina one day when a strange creature they'd never seen before ambled over to them. They trapped the animal in a garbage can and contacted local animal control officers, who were quickly able to solve the mystery.
The animal turned out to be a kinkajou - a species that only lives in the rainforests of Central and South America. A long way from North Carolina.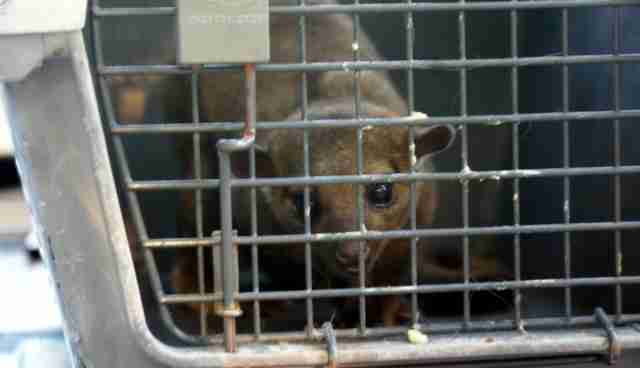 The 5-year-old kinkajou was brought to the Carolina Tiger Rescue, an animal sanctuary that specializes in big cats and other exotic animals who have been kept as pets. Rescuers named her Lola and determined that, thankfully, she was in very good health.
"It is believed that Lola was a pet that either escaped her former home, or was 'released' because of her wild instincts," Katie Cannon, education director at the sanctuary, told The Dodo. "While the staff and volunteers waited for her owner to come forward, no one ever did."
Due to the animal's cute appearance, many people purchase kinkajous to become pets, according to Cannon, before realizing that, once they reach maturity, they can be quite aggressive and don't actually belong in someone's house - kinkajous are wild animals after all. Once they reach that point, their owners often seek new homes for them, or end up abandoning them.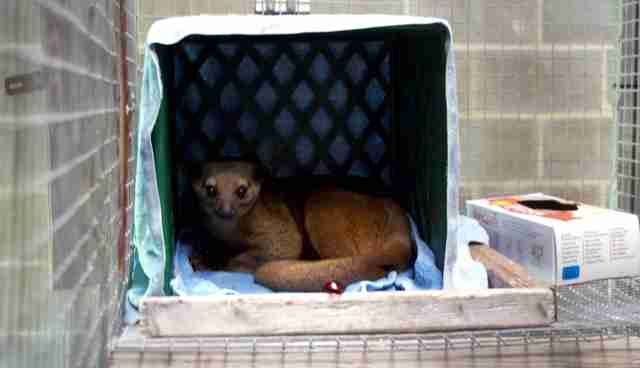 "These small, tenacious mammals are equipped with inch-long claws on each digit, and needle-sharp teeth," Cannon said. "They will not hesitate to use these natural weapons as a means of defense, even against an owner they've lived with for years."
When Lola first arrived at the sanctuary, she seemed terrified. "She was understandably nervous, and would frequently hiss and yell at her new caretakers," Cannon said. "These types of vocalizations are often indicators of stress and are a warning to any potential threat. The keepers persevered."
Lola preferred to huddle in the corners of her enclosure, and would only eat when no one was watching her. The staff at the sanctuary was determined, however. Today, Lola is much happier and confident in her new home.
"While Lola still prefers her quiet corner of the sanctuary over visits from loud groups, she's made a tremendous amount of progress over the last three years," Cannon said.
Recently, Lola celebrated her eighth birthday, and even got a present from her keepers ...
... which she was VERY excited about.
Lola cannot be released back into the wild after having been kept as a pet, and thus will spend the rest of her life living at the sanctuary.
"Lola has now found her forever home with 39 other carnivores in Pittsboro, North Carolina, and is a perfect example of how dangerous private ownership of exotic animals can be," Cannon said.