Family Destroys Their Car To Save Kitten Trapped Inside
This curious little cat has had a rough week so far - but thanks to the extraordinary dedication of his new forever family, he's got a long life of love and happiness ahead of him.
The 6-week-old kitten's misadventures all began on Sunday, literally within moments of being adopted by the Williford-Neal family of Vero Beach, Florida. After being placed inside their car to take him home, the tiny new pet suddenly vanished without a trace. Then they heard him meowing.
Turns out, the kitten had managed to climb up through an opening under the glove box into a space beneath the dashboard. But getting him out wouldn't be nearly as easy - not by a long shot.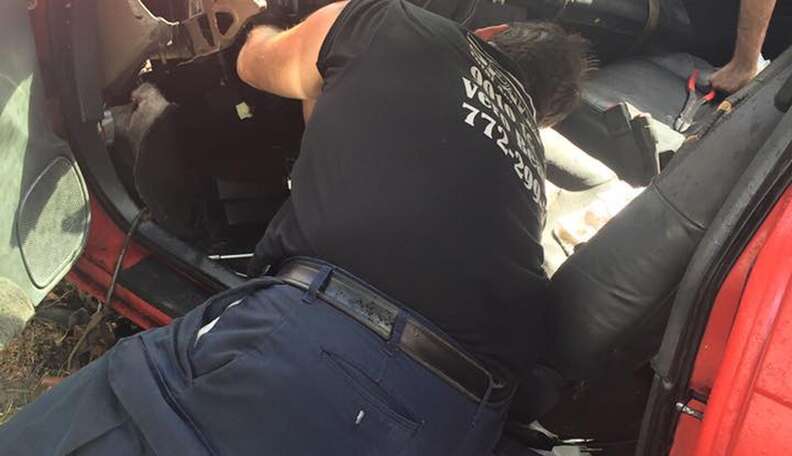 The family had hoped the kitten might emerge on his own, but as the hours passed with no sign of him, it became clear that he was truly trapped. They knew they had to do something, and posted on social media for help.
Among those who read about the kitten's predicament were Valerie and Ron Spada, of Spada's Total Auto Repair. They volunteered to drive out and assist in the rescue. That's when they learned just how committed the family was to bringing their new kitty to safety.
"The husband told us, 'I don't care about the car. Just please get the kitten out,'" Valerie told The Dodo. "He helped us saw through the dashboard, removing the radio, the AC, the center console - everything. The car was demolished. The whole time he was just praying to God that the kitten is rescued."
Fortunately, all that effort paid off.
After more than an hour of careful sawing and peeling back of dashboard components, the rescuers were able to reach in to grab the kitten. Although the car was totaled in the process, the little cat was in good shape, albeit a bit exhausted and dehydrated.
Here's the moment he was finally pulled out of his tight spot.
The Williford-Neal family hadn't known their new pet for long, but they were willing to destroy their car to save him. Afterward, those who helped in the rescue learned what a big gesture that really was.
"This is a guy who told me he rode his bicycle to work every day for a year so he could save enough money to buy that car," Valerie explains. "He said, 'I don't care. I will ride my bike again as long as the kitten comes out.' It was the honorable thing to do. Not a lot of people would do that to save an animal."
Having to destroy their vehicle, a '95 Chevy Monte Carlo, "wasn't a choice but a must," the Williford-Neal family told The Dodo. But at least they still have something even more cherished - their new kitten named, appropriately enough, Monte.