Well, that was a close one.
One very lucky husky survived what otherwise would have been a fatal tumble from the top floor of a building in China - all thanks to the serendipitous placement of some power lines which, as if by some miracle, were there to cushion his fall.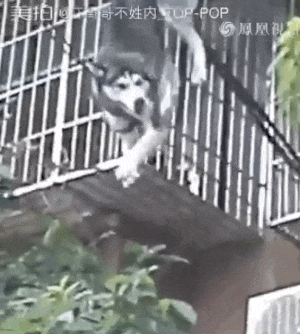 v.ifeng.com
Fortunately for the husky, who wasn't out of danger yet, folks on the ground were there to help him in his predicament. Anticipating that the dog would soon slip from the wires, they stretched out a sheet to catch him.
According to CCTV, the dog escaped the entire bizarre incident without injury, hopefully having learned his lesson on the dangers of gravity. Still, we really hope his owner takes necessary precautions to ensure that he doesn't fall again.
After all, while this dog might have a guardian angel, nothing beats a real guardian.