Facebook Post Saves Puppy Left To Die In A Plastic Bag
<p> <a href="https://www.facebook.com/groups/1015910078449835/permalink/1054952247878951/" target="_blank">Facebook/Marcia Lutz</a> </p>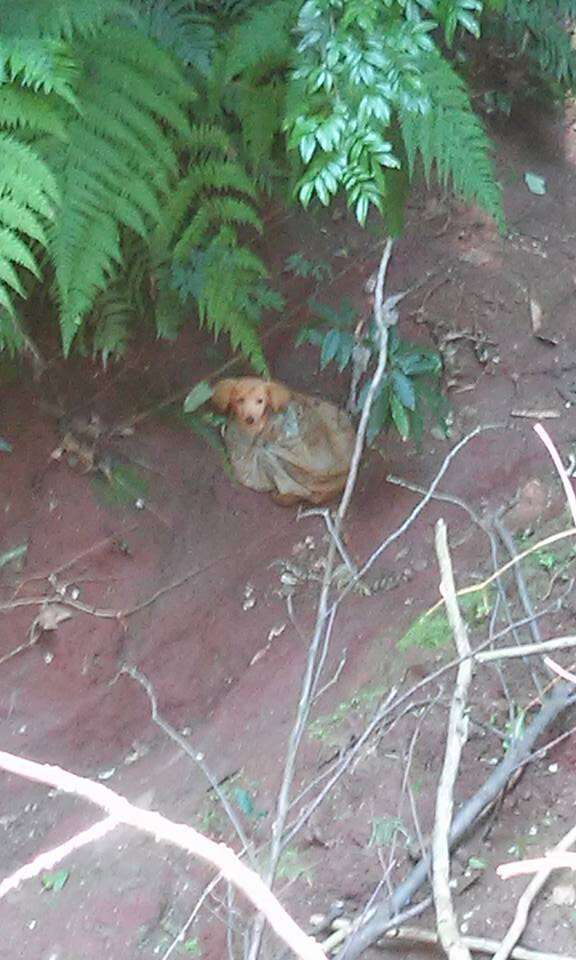 Within minutes, comments began to pour in among the group's 1,300 member page asking how they could assist, while condemning whoever might have discarded the dog so cruelly.
One person who saw the post was Cláucia Jackline de Oliveira, who works at a medical office near where the dog had been spotted. She and another nurse leapt into action, climbing down into the ravine to bring the puppy to safety.
By 11:48 a.m. - less than a half-hour after the first call for help was posted to Facebook - the dog was rescued.
"Thank you girls," Lutz wrote in a comment. "God bless you."
Judging from the amount of body waste inside the bag with the dog, Oliveira suspects he had been trapped there since the previous evening with no way of escaping the bag, which had been tied shut. But fortunately, despite his long ordeal, the puppy appeared to be in good health.
Oliveira asked the Facebook group if someone would be able to provide the pup with a home. And, sure enough, within an hour, she returned to the page to announce that the puppy had already been adopted.
The speed in which the puppy went from being wrapped up like trash to becoming somebody's treasured pet was inspiring even for folks on the page who help animals every day.
"I want to thank everyone who was concerned, who rescued, who cared," one member of the group wrote. "I still see hope for a better world with your kind of attitude."
Use Facebook's search function to find communities working to save needy animals in your area.