Fabien Cousteau Back On Dry Land After 31 Days Underwater
After 31 days underwater and 50 years after his famed grandfather Jacques Cousteau's original deep-sea mission, Fabien Cousteau surfaced from the Aquarius Reef Base last Wednesday.
The purpose of the project, called Mission 31, was to study oceanic pollution, climate change and their impact on wildlife, as well as to study coral reefs.
Cousteau and a team of aquanauts lived and worked in an underwater lab for 31 days with filmmakers, scientists and researchers from Florida International University, Northeastern University and MIT, who did two-week shifts throughout the month-long period.
Researchers were able to gather up to two years' worth of data in just a few weeks because they were living underwater. They set up long-term monitoring equipment to study ocean acidification and coral probes that are the size of a human hair. They also tested a camera that captures animal behavior in slow motion and a sonar device that collects data over a wide range of frequencies, thus increasing the amount of information it collects.
The 460-square-foot pressurized lab has 6 bunks and it sits 63 feet below the ocean's surface in the Florida Keys National Marine Sanctuary. Owned by the federal government, the base is equipped to let its inhabitants scuba dive for up to nine hours without needing to resurface or undergo decompression.
"The overarching theme for Mission 31 is the human-ocean connection within the lens of exploration and discovery," Cousteau said in a statement. "Mission 31 pays homage to my grandfather's work and all aquanauts who have since followed his lead in the name of ocean exploration."
Here are some highlights from Mission 31:
Meet JYC
This 400 pound grouper hung out at the base and has become a social media rock star. He was named JYC in honor of Jacques Yves Cousteau.
The Vampire Diaries' Ian Somerhalder stopped by for a visit
A vampire and scientist walk into an undersea habitat...
Brain Coral
This amazing coral glowed fluorescent yellow when under UV lights: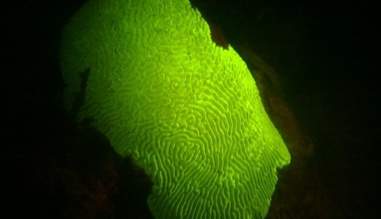 Adrien Grenier also visited the team
The viewing port #selfie is the coolest selfie out there! Doesn't get much cooler than @adriangrenier and @fcousteau AND the photobombing sealife Repost from @adriangrenier so glad you visited Aquarius #mission31 #oceans #sustainable #fiuaquarius #sealife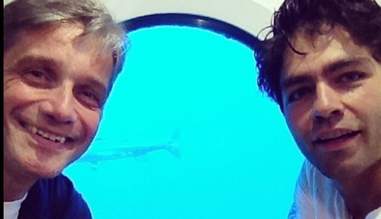 Richard Branson joined the team via Google Hangout: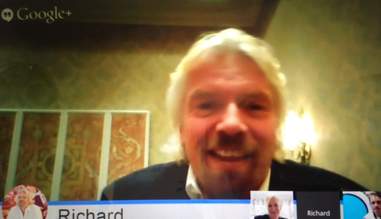 Stunning time-lapse video of the aquatic life around Aquarius Reef Base
And lastly....
Here's what happens when you crack an egg underwater!