Is WWF Missing The Big Picture Of Dolphin Conservation?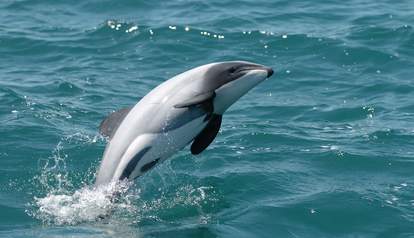 Experts slam WWF's SeaWorld involvement and recent dolphin campaign
Marine scientists, conservation groups and animal welfare organizations are voicing their concerns after the New Zealand branch of the World Wildlife Fund (WWF) recently announced its "Last 55 Maui's" campaign. The Hector's dolphin subspecies, the Maui's, are only found on the West cost of the North Island, and are critically endangered, with less than 55 individuals remaining. The WWF campaign has experienced some backlash from the marine conservation community, largely stemming from the recent revelation of WWF's involvement with SeaWorld.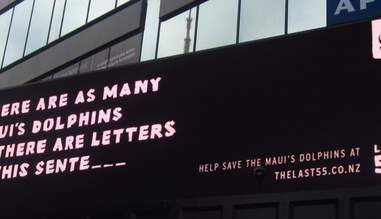 An image from the recent Maui's campaign During a recent interview, WWF admitted that for the past 25 years it has accepted funds for conservation projects, from SeaWorld, an international captive marine facility.
Dr. Ingrid Slooten, a professor of Zoology at Otago University, who has researched the New Zealand dolphins for more than 30 years, was alarmed by the revelation. In an interview with Dr. Slooten, she said "[the partnership] seems like a most unexpected sponsorship connection," adding that she is "concerned that [WWF] are not particularly clear about what they would like the [New Zealand] government to do about saving Maui's dolphin. There are plenty of organizations [that] could fund protection for New Zealand dolphins. It seems crazy to choose a company that is actually doing damage to marine mammal conservation."
"It's difficult to imagine a more direct conflict of interest."
Orca Research Trust founder Dr. Ingrid Visser expressed similar concern. Dr. Visser has studied the orca for over 20 years and campaigned for the release of SeaWorld captive orca, Morgan.
In an interview she said that "WWF [is] refusing to look at the fact that SeaWorld doesn't meet the internationally accepted 'five freedoms' for captive animals," and that "[It] needs to ask itself and its members if it will continue to accept funding from a corporation that other non-governmental organizations, and high-profile individuals are distancing themselves from."
Samantha Lipman, U.K.'s Orca Aware zoologist and marine mammal medic, questioned if SeaWorld had an agenda in WWF's campaigns, saying that a number of supporting members and campaigners have already directed their concerns to WWF, but that it "never fully addresses the issue" over its partnership reasons.
"The money [WWF] receives from SeaWorld has been made from the exploitation of dolphins, orca and porpoises. [WWF is] turning a blind eye to the suffering of 53 individual orca currently in captivity, and at the same time, is fighting to save 55 individual Maui's. WWF is sending out a conflicting message," Lipman said in an interview. "They don't address the issues. They do not answer the question that is being asked and people are becoming frustrated and angry because of this."
"They want a real answer, not a corporate one."
When reached for comment, WWF U.S. media and external affairs spokesman Ian Morrison said that, "the SeaWorld and Busch Gardens Conservation Funds... has donated funds to our work annually through WWF in the U.S. [and is] primarily focused on species conservation efforts in Africa, Asia and Latin America." The group's New Zealand communications manager Alex Smith added its funding mostly comes from donations and supporters, with additional funds coming from charitable organizations, the private sector, and the wider WWF network, including the U.S.
The evasive responses from WWF suggest its SeaWorld partnership is more important than its credibility in the conservation community. The marine scientists interviewed shared an apprehension towards future dealings with WWF, with Dr. Slooten suggesting she will "certainly be asking a few more questions" before lending the group any more of her support.