Exclusive Interview With Rep. Adam Schiff: "No More Captivity For Our Entertainment."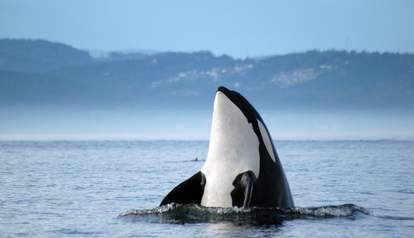 Life may be tough for captive killer whales, but at least they have a friend in Washington. 
Last week, Rep. Adam Schiff (D-Calif.) took to the floor of the House of Representatives to deliver an impassioned speech packed with empathy for orcas living in tanks and criticism for those who keep them there. 

"While the documentary 'Blackfish' ignited a public and passionate debate over whether orcas should be held in captivity for the purposes of display and entertainment, as they are at Sea World and other parks around the world, marine mammal experts have, for decades, been engaged in a longer discussion about the scientific value and morality of keeping killer whales in captivity," Schiff told his colleagues.
In his five-minutes of remarks, Schiff conceded that animal captivity can engage children, create respect for wildlife and contribute to scientific knowledge. But he added that using killer whales for entertainment purposes does little to advance such laudable goals.

"The shows in which these animals are displayed often have more in common with a rock concert than a scientific exposition, and many believe that the psychological and physical harm done to these magnificent animals far outweighs any benefits reaped from their display," Schiff asserted.

 Schiff went on to list many of the reasons why orca captivity is neither proper nor moral, including the fact that wild whales swim up to 100 miles per day. "In captivity,they are held in tiny, shallow concrete pools, where they often wallow listlessly when not being asked to perform."
Last month, Schiff and Rep. Jared Huffman (D-Calif.) won unanimous bipartisan support in the House for an amendment to the Agriculture Appropriations bill, demanding that the USDA -- which enforces provisions of the Animal Welfare Act -- finalize regulations pertaining to captive killer whales that have been languishing in the bureaucracy for almost 20 years. 
"These rules certainly should have been revised in light of new data twelve years ago when USDA opened up the rule-making process. Unfortunately, they dropped the ball -- so it's time to try again," Reps. Schiff and Huffman said in a joint statement at the time. "The American people want to see these regulations reviewed and updated to reflect the growing scientific and public concern about the effect of captivity on these animals.
Schiff recently spoke to The Dodo about his floor speech and efforts to force USDA to take action.
"The Agriculture Appropriations bill hasn't received a final vote by the House because of unrelated disagreements," he noted. "Though there is uncertainty about the final disposition of the legislation, the unanimous vote by the House sends a clear message that there's support in Congress for USDA to act. 
Schiff wants the regulations to be based on sound science, he said, "and not grounded in an effort to placate the interests of the industry that showcases them.
"

Blackfish," he said, "helped bring home for me the disturbing effects of captivity on these incredible creatures. What I found troubled me, and as a person who believes we have an obligation to treat animals humanely I thought it was important to raise these concerns in Congress."
So far, reaction has been positive. 

"We've been talking to our colleagues on both sides of the aisle," he said. "There's no question that awareness of the concerns about orca captivity is increasing, both in Congress and in the public at large."

 All that positive feedback, "has just made me more convinced that collectively we're starting to move the needle towards ending the practice of keeping orcas captive for entertainment," Schiff said. "I believe that our moral compass will ultimately lead us to end this inhumane practice so we can go back to seeing these majestic animals in their natural habitat, where they belong."
Schiff believes the time has come to phase out killer whale captivity, beginning with an end to captive breeding and wild captures, which still occur in places like Russia. 

"With the death of this generation of captive orcas, we should draw a line," he said. "No more confinement in tiny tanks. No more forced social structures. No more captivity for our entertainment."
So what can The Dodo readers do to help?

 "Time and time again, we see how effective grassroots efforts can be," Schiff said. "If you're concerned about the humane treatment of orcas, or any other issue, talk to your representatives in Washington. A tweet, a letter, an email or in person meeting can go a long way to bringing attention to this issue."