Former Soldier Tries To Explain Horrifying Dog Photo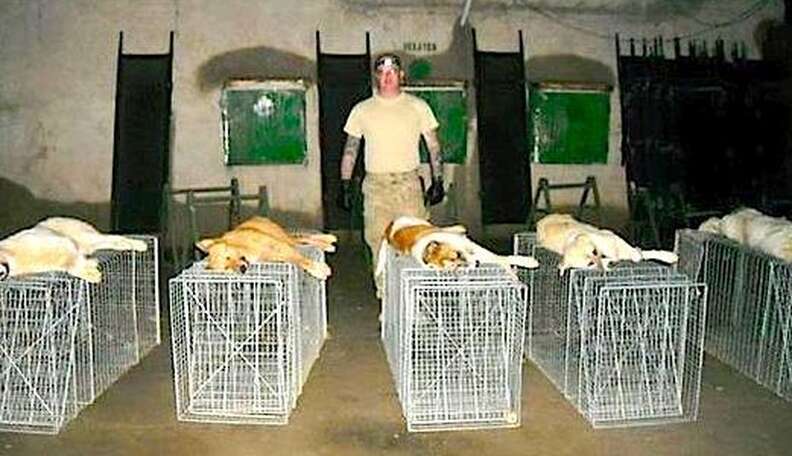 <p> Tamala Lester<span></span> </p>
A photo showing what appears to be a soldier with at least five limp dogs surfaced on Facebook and sparked outrage.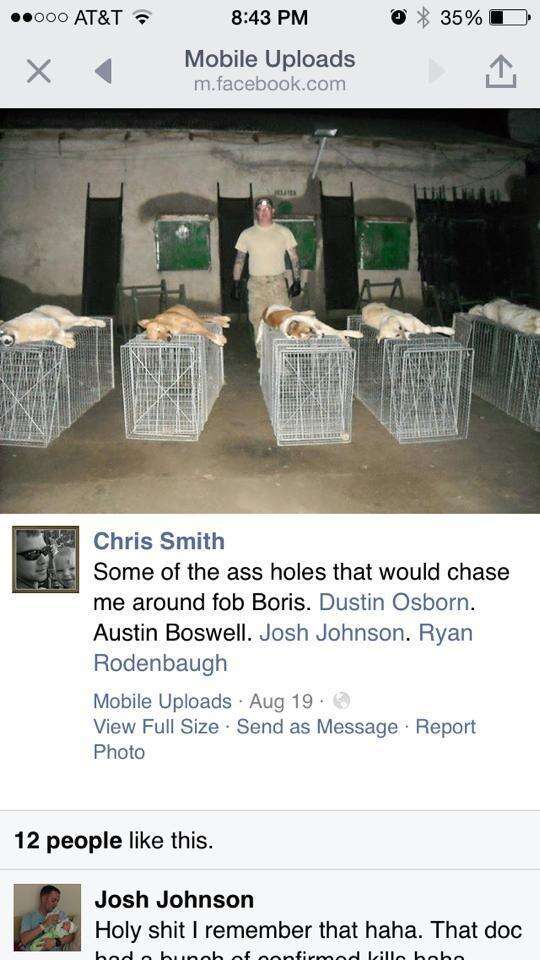 "Some of the ass holes that would chase me around fob Boris," Chris Smith captioned the photo, tagging some friends, like Josh Johnson, who wrote, "Holy shit I remember that haha," causing more disgust from dog lovers everywhere.
One commenter, trying to clarify, wrote, "... they're just sleeping, right?" Josh Johnson replied, "Yes they were very tired..." and then, "They took a nap forever...."
Well-meaning animal lovers started petitions calling for Smith to be punished for destroying the dogs and bragging about it. They pushed for him to be discharged from the army.
Unfortunately, they got some of their facts wrong. Even though the photo was uploaded on August 19, the photo was snapped years ago at FOB Boris military base in Afghanistan, according an open letter Smith posted to Facebook defending the photo that caused so much pain and anger. "Yes I posted a 3 year old picture from Afghanistan of some dogs that are getting ready to be euthanized, in this picture everyone is crying about," he wrote, continuing:
guess what they are not even dead yet they had just received the first shot that sedated them so they would feel no pain. After this picture was taken they received the 2nd round and it was lights out. Now another fact you need to know to save a lot of people's time is that I am no longer a soldier, I've been home for a couple years now. So this should tell you that these petitions are nothing to me you can not have me removed from a service I am no longer a part of, also it means I do not have to up hold any standards of public conduct that I use to. I'm just like the rest of you and I'm free to speak my mind without answering to any public relations specialist or chain of command.
He added more information about the dogs in the photographs:
If you do a little research you will see that at the time this picture was taken feral dogs where out of control in Afghanistan, soldiers where being bit and infected and in a lot of areas we just did not have the resource to treat someone. Vets where flown in across the region to capture and euthanize dogs for the safety of our troops. Now after all this information if you still are crying thinking that still doesn't make it right then carry your ass over there and open up a shelter I wish you the best of luck.
The Dodo did a little research, as Smith urges. There is a whole manual issued by the U.S. military that gives rough guidelines on dealing with stray animals, and recognizes that in some areas units will decide to put in place a policy to euthanize stray animals. "Euthanizing a stray animal can, on occasion, be considered a humane action. It is always the last resort and should be practiced only when rescue and adoption are not possible," the report says. The guide encourages military units to educate the public about this to keep up public perceptions of the military: "Provide information about the hazards caused by stray animals and stress the link to personnel health, safety and welfare and protection of wildlife from these animals."
While the military does sometimes euthanize stray animals, it says nothing that condones calling the animals assholes or posting the grim photo on Facebook and bragging about it.
One animal advocate posted to U.S. Army Fort Lee's Facebook page, asking the question, "Is there any comment about what our soldier, Chris Smith, who defends our country, AMERICA, did with the killing of those dogs? I think AMERICA would like to know what you are doing about it. Court Marshall is in order."
The page replied:
Clearly, the posting of the image and the associated comments are in poor taste – to say the least – and not in keeping with Army values or the high standards of professional conduct to which we hold our Soldiers
However, we have confirmed that the individual in question is not an active duty Soldier in the U.S. Army and does not work at Fort Lee.
There are so many hidden casualties of war - those who disappear from the earth and are never documented. Now these dogs count among those unknown numbers.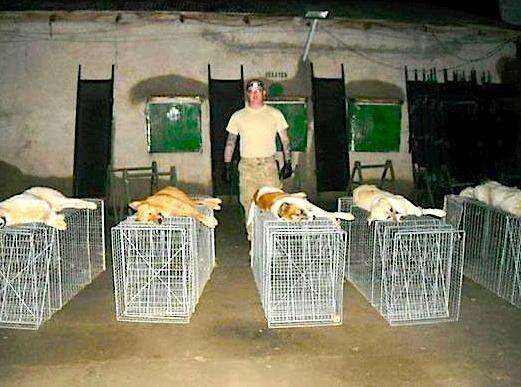 Chris Smith did not immediately reply to The Dodo's request for comment.
UPDATE: The Dodo heard back from Chris Smith after we published the article. He wrote the following comment in a Facebook message: "We where told not to shoot the dogs unless we had no other choice, backed into a corner with no where to escape kind of deal...... They didn't want any spread of disease through the blood that would come from shooting one.
When asked if he has pets of his own, Smith wrote: "yes I have a pit that I sleep with every night. I've always had dogs and cats. Nothing about being over there in a war is easy."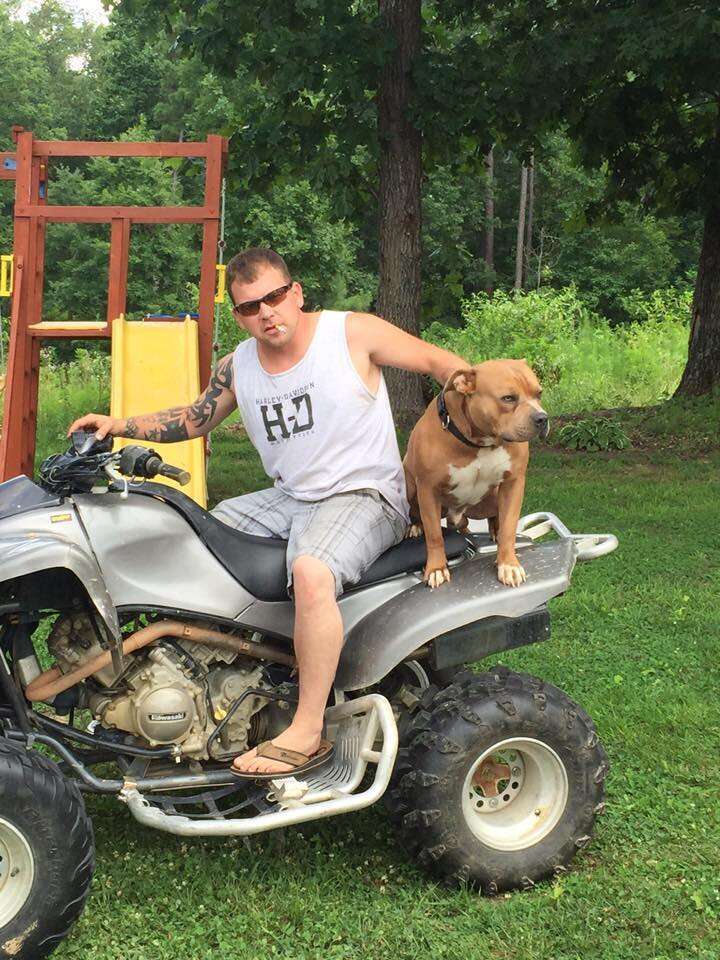 When asked if it was difficult to euthanize the dogs, Smith wrote: "no it's not difficult I was happy to be able to complete task with out the added danger of feral dogs attacking me. People are sitting in their recliners comparing these animals to the dog in their lap and that's simply not the case. Out of how many of these people that are so upset about this picture will actually do anything to help the animals over there?"