Every 15 Minutes an Elephant is Killed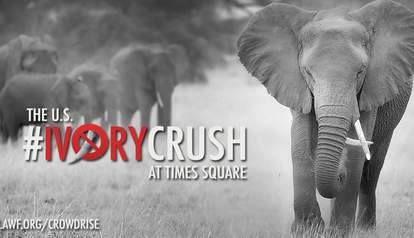 <p> Add a Photo Credit... </p>
The United States is crushing 1-ton of contraband ivory in New York City's Times Square, sending the message that illegal ivory-and its toll on the continued survival of Africa's majestic elephants-won't be tolerated.
Today, due to human greed and a desire for ivory trophies, an elephant is killed every 15 minutes. Loss at this rate is unsustainable and threatens the species long-term survival.
As the price of ivory grows to surpass even gold, it's now more critical than ever to protect Africa's elephants from sophisticated poachers, traffickers and consumers.
African Wildlife Foundation (AWF), the largest conservation organization working solely on the continent of Africa takes a holistic, three-pronged approach toward conserving this vanishing species.
AWF is working to:
Stop the demand: Our "Say No" public awareness campaign-a celebrity-driven effort-aims to raise awareness of the destruction wrought by the illegal wildlife trade through a variety of video, billboard and print advertisements. Launched in China in 2012, the campaign has expanded to Thailand, Vietnam and the United States.
Stop the killing: AWF works on the ground to protect Africa's majestic elephants from poachers and human-wildlife conflict. We train and deploy wildlife scouts, provide enterprise-level opportunities for communities to benefit from conservation and empower Africans to be the stewards of their own wildlife.
Stop the trafficking: Africa's natural heritage belongs in Africa, and AWF works with law-enforcement officials to secure airports and seaports using specialized canine units that are trained to detect the presence of wildlife contraband, preventing traffickers from smuggling illegal ivory across borders. We also engage governments and law-enforcement to ensure the proper training and legal framework is in place to apprehend and prosecute poachers.
Together, we can prevent another elephant death. Donate to ensure these gentle giants survive for generations to come.