He's Living Proof Dogs Can Recover From Dogfighting
"He proves it to everyone he comes across and meets."
Imagine hundreds of dogs, chained to plastic barrels or wooden shacks, living in a patch of dirt three feet in circumference, worn down by the dogs' constant circling, their only purpose being to fight or breed.
Unfortunately, the above scenario was real. In Alabama, Mississippi and Georgia, dogs used for fighting were found surrounded by the dead bodies of other dogs no longer useful to their owners. They suffered from internal parasites, vitamin and mineral deficiencies, and various injuries and had been kept outside in inclement weather 24 hours a day, according to the Humane Society of the United States (HSUS).
And this was not an isolated case - dogfighting compounds all over the United States mirror this scene. For these dogs, help couldn't come soon enough.
The Alabama Police Department began an investigation that spanned three years and ultimately required the involvement of the United States Attorney's Office and the FBI. Those agencies turned to HSUS and the ASPCA and finally, on August 23, 2013, the dogs were rescued.
They became known as "The 367" in a case that proved to be the second-largest dogfighting operation in U.S. history. After their rescue, The 367 dogs were brought to shelters operated by the HSUS and the ASPCA, where they began rehabilitation.
Over the next two years, they received medical care, proper food, shelter, comfort and intervention by behaviorists to help them overcome the trauma of their prolonged abuse.
But for some of the dogs whose spirits were so damaged by the people who abused them, the transition from a life on chains to a nice warm kennel with blankets, clean water and food wasn't automatically an easy one.
Evan was one of The 367 dogs who struggled with his newfound freedom. He would stay as far back in his kennel as he could, and the sight of other dogs highly agitated him. His teeth had been worn down, either by chewing on his chain or possibly from being filed down, a common practice used by dogfighters on animals forced to fight as bait against prized fighting dogs.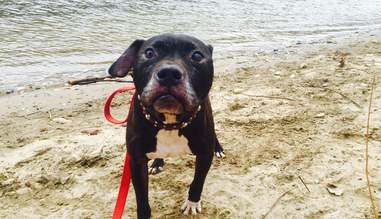 Evan enjoying his freedom

| Heather Stephenson
Evan's mouth was full of infected teeth and he also suffered from skin allergies, Charlie Stephenson, who eventually fostered Evan, tells The Dodo.
Since being rescued, Evan has had to have all of his teeth pulled, earning him the nickname "Toofers." His skin allergies are now controlled by diet, medication and regular baths.
"Toofers" is Evan's nickname after his teeth had to be removed due to infection.

| Heather Stephenson
When Evan was released by the courts, he was taken in by Twin Cities Pet Rescue and was first fostered by Mandy and Kevin Malecek. He was treated to Popeye's chicken on his way to his new home. After meeting Evan a few times, Heather and Charlie Stephenson stepped up to take over foster duties and brought Evan into their home while the Maleceks were in the process of moving.
Because Evan was very excitable near other dogs, he was, at first, kept apart from the Stephensons' pets, a 6-year-old pit bull named Emmett and a 13-year-old dachshund named Penelope. It was Emmett, however, who ended up teaching Evan how to be around other dogs, according to Stephenson. Evan would watch Emmett and mimic his actions. He was first introduced to Emmett and Penelope while on his leash, then began taking group walks with them and, eventually, was able to be off leash.
Within three months, Evan was able to be integrated into the mix. Additionally, the Maleceks had completed their move and Evan was going to rejoin them. To celebrate these milestones, the Stephensons created a day of "summer camp" for Evan, to give him the perfect send-off. They created letters from "home" that were "written" by Emmett and Penelope, and even gave Evan a "merit badge" for his bravery in learning to be with other dogs. The three pups enjoyed hot dogs and s'mores on their special day. When the Maleceks brought Evan back into their home, he no longer needed to be kept apart from their other dogs.
Evan, Emmett and Penelope show off their "summer camp" merit badges.

| Heather Stephenson
Now, Evan spends his time between the home of the Stephensons and the Maleceks. Because Evan was doing so well, both families agreed to share custody, according to Stephenson.
Evan now has lots of toys, including his favorite stuffed hedgehog.

| Heather Stephenson
The Stephensons took in another young pit bull named Ivy this winter and Evan was actually the first one of their dogs to integrate with her. "This is something he never would have done a year ago," Stephenson says. The Malaceks also have a cat named Emily who cuddles with Evan.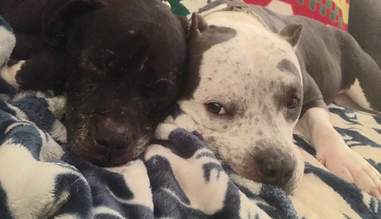 Evan with his foster sister, Ivy

| Heather Stephenson
"Evan is living proof that dogs from fighting backgrounds can and should be given the chance to be rehabilitated," Stephenson says. "He proves it to everyone he comes across and meets."
"Watching him learn to be comfortable around other dogs was absolutely amazing," says Stephenson. "He went from getting worked up and not knowing what to do, to napping on the couch and initiating play with other dogs."
Nap time

| Heather Stephenson
It's been nearly three years since that day in August when Evan and so many others gained their freedom. He's still sometimes startled or scared by loud noises, and new places make him nervous. But Stephenson says he loves his "kingdom." He arranges his bed just so, including ensuring his toys are all in their proper place.
Evan still needs his own forever home and would do best with someone experienced with pit bulls. If you're interested in adopting Evan, check out Twin Cities Pet Rescue.
Watch a video of Evan getting a bath here: