It's hard to imagine Frankie's great escape being anything other than his own design.
He first catapulted to headlines from the confines of a Texas shelter. All it took was this stunning acrobatic display for people everywhere to take notice.
Humane Society of North Texas
"He looks like he's freaked out," Whitney Hanson of the Humane Society of North Texas told The Dodo at the time. "But he was wiggling up there. He was wagging his tail. He didn't want get down. He was very proud of himself."
After his impressive feat, all that was left for Frankie to do was find someone who shared his flair for drama to take him home.
He didn't have to wait long. Just weeks after making himself famous with his high-flying heroics, Frankie found a permanent home.
Humane Society of North Texas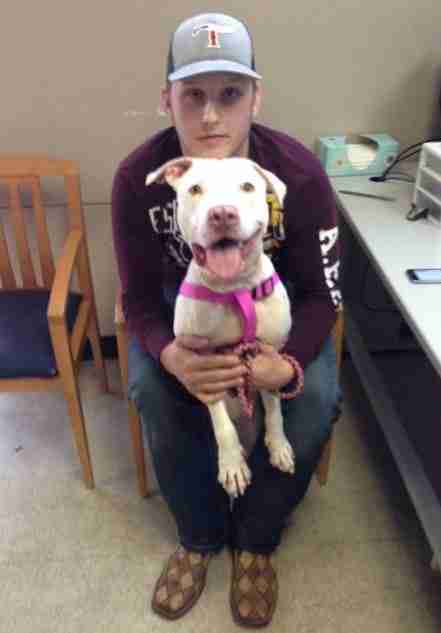 "He came up yesterday afternoon to meet with him and just fell in love instantly," Hanson told The Dodo of Frankie's first meeting with his new owner. "He had been following his story from the beginning and decided Frankie was the right fit for him."
If only everything in Frankie's life had followed such a pitch-perfect plan.
But, like so many dogs who end up in a shelter, Frankie's early life was touched by tragedy.
Indeed, nearly choked by tragedy.
When Frankie arrived at the Humane Society of North Texas, he had to immediately undergo surgery. His previous owner, apparently, didn't share the dog's enthusiasm for escapism - Frankie's collar had burrowed so deeply beneath his skin, it left a brutal, deep gash.
Humane Society of North Texas
The experience hardly dampened the dog's spirits. In no time, he became a staff favorite at the shelter - the plucky pit bull mix.
But now, Frankie will learn to apply his skills a little more constructively.
"Frankie is going to be an indoor dog," Hanson says, adding that his new owner is "excited to work with him on training and all that kind of stuff to help him with... escaping."
Want to help dogs like Frankie? Visit the Humane Society of North Texas.