Society expects auction management, farm animal transporters, and feed lot workers to voluntarily comply with animal humane laws. Most of them don't, and that's why Animals' Angels was founded and, sadly, will seemingly always need to exist.
Case in point, the Escalon Livestock Auction located in California.
You may be aware of our ongoing efforts to ensure that the animals in their care are treated humanely. Even though many of the animals that pass through their pens are destined for slaughter, there are regulations in place to ensure that they do not suffer needlessly before their deaths. Unfortunately, these regulations are all too often ignored. Indeed, the Escalon Livestock Auction management crew routinely flouts the law, knowing enforcement agencies will likely not pursue action.
A Little History
Animals' Angels has investigated the Escalon Livestock Auction since 2008. In both 2008 and 2009, law enforcement was contacted and evidence of appalling cruelty was provided to the San Joaquin County District Attorney's Office. No action was taken. In 2009, after documenting horrific treatment and conditions, Animals' Angels met with representatives of the California Farm Bureau, the State Veterinarian, the Livestock Marketing Association, and the California Cattlemen Association and Escalon auction management to discuss the findings from our investigation and to suggest improvements. As a result, guidelines for animals that become non-ambulatory while at the auction were developed and the auction hired someone to monitor the welfare of animals at the sale.
For the next few years, Animals' Angels did not discover any abuse. Unfortunately, our 2014 investigation revealed that this positive development had been of short duration.
In August 2014, Animals' Angels investigators went to Escalon Livestock and found shocking abuse of several animals in their care - and perhaps more importantly, the complete indifference of the individuals responsible for ensuring humane treatment. For example - the pens holding cows, goats and pigs were dreadfully overcrowded, and the helpless animals sometimes injured themselves or each other in an attempt to find some space.
Our investigators documented the condition of non-ambulatory cows who, rather than being humanely euthanized as required by law, were instead dumped callously next to manure piles or left lying on asphalt, exposed to the full heat of the sun for hours to suffer horribly and die.
We once again presented our findings to the San Joaquin County Sheriff's Office. The Sheriff's Office conducted an investigation which ended in February 2015 at which time the case was submitted to the San Joaquin District Attorney so that cruelty charges could be filed. Despite our overwhelming evidence - not just personal observation but also video and photographs! - no prosecution would take place.
Although we were extremely surprised and disappointed at this conclusion, we did not give up the fight to acquire justice for the helpless animals who go through Escalon Livestock.
Read our full investigation report from 2014 here.
Fast Forward to Present Day: 2015 Investigation
We returned to Escalon in 2015 and found serious violations of California law come to light during the course of visits conducted by Animals' Angels investigators.
What is most telling is that this appallingly cruel and criminal activity occurs out in the open, showing the auction's belief that it is above the law and that the law need not be followed.
On July 10, 2015, a downer calf was seen on the auction premises. Auction workers, in what can only be described as a cruel maneuver, tried pulling her up by her ear, and then her hind leg, but were not successful. Imagine the calf's agony at these brutal and hard-handed attempts which the workers should have known would never have succeeded. Despite the fact they could not get the calf up, and that she remained non-ambulatory, the calf was then put on a tarp and sold to a buyer. She was put in a wheelbarrow and loaded onto the buyer's pick-up truck. This is a clear violation of the statutes against auctions selling non-ambulatory animals as well as failing to immediately humanely euthanize a downed animal. One can only imagine why the buyer wanted to purchase such an animal in the first place.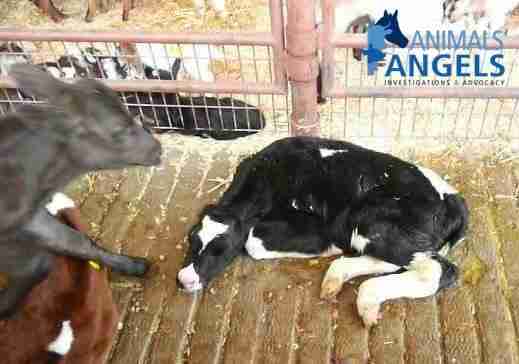 On August 5, 2015, our investigators watched a non-ambulatory cow as it was unloaded from a trailer which had a sign on the side that said "Escalon Livestock Market/Big Mike Hauling." As soon as the cow was unloaded, the driver of the truck closed the gate to restrict view of the downer cow. The cow made desperate efforts to rise, but could not do so. In response to the cow's inability to rise, the driver, along with an auction worker, used an electric prod on her and kicked her, in an apparent attempt to get her up. When this was unsuccessful, she was shot in the head.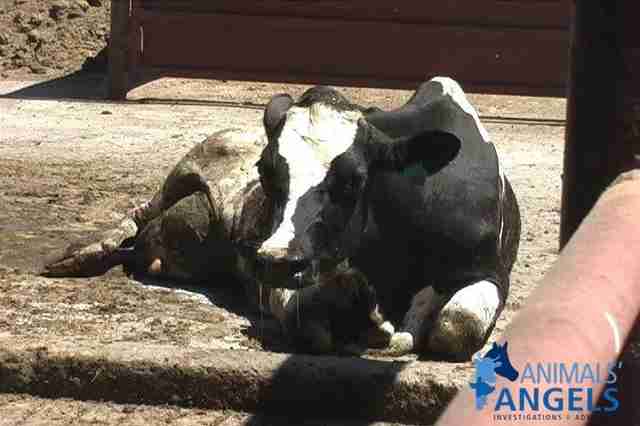 However, the auction worker did not check to see if the cow really had been killed, did not check her reflexes, but instead tried to put her on the forks of a Bobcat. When the poor cow was hit with the forks, it became clear that she was still alive as she immediately reacted. She was struggling, and then we believe she was shot a second time (the gate blocked complete view of the second shot.) Having been successful on this occasion, the motionless cow was loaded onto the Bobcat's forks and dumped in the back of the premises.
This single incident on August 5th includes several violations of the general anti-cruelty statute, for the treatment this cow received before she was finally killed. No animal should endure what this cow was made to suffer, and California laws clearly prohibit this type of treatment.
On August 7, our investigators returned to the auction and saw a non-ambulatory Holstein bull calf, unable to rise, with obvious rapid and shallow breathing. An auction worker came up to the calf, and dragged him to a junk area outside the pens where the young calf was dumped on a garden hose. It was heartbreaking for our investigators to witness this calf vocalizing and struggling as he lay there unable to move. But we knew evidence was needed to show the authorities the auctions' actions towards the animals in their care. The calf remained there, in that condition, for three hours. During that time, other auction workers stepped over the calf, no one stopped to help or provide relief for the animal.
Then, immediately after the auction's barn manager saw our investigators filming, he had a conversation with one of the workers, who then began to remove the calf. At first the worker roughly lifted the calf by the skin on his back, but the barn manager told him to carry the calf, most likely afraid of being caught on camera "in the act" of such poor handling. The calf was then put in the bucket of a Bobcat and hauled away.
On September 14, 2015, Animals' Angels again submitted all of our evidence to the San Joaquin County District Attorney's Office, urging them to take this continued, egregious animal abuse seriously. To date, the District Attorney's Office has done nothing. No charges have been filed against Escalon Auction and thousands of animals passing through the sale every week continue to suffer.
For more details, please read our full report here.
To view the video from our investigation, go here. (Warning -- Graphic Content)
Add Your Voice to Ours to Help These Animals!
Animals' Angels will continue to investigate and document the horrific treatment of helpless animals at Escalon Livestock Auction. But if the District Attorney's Office refuses to press charges, what else can we do?
That's where you come in! We - and these animals - need you to make your voices heard.
Here is how:
We urge you to call or write to the San Joaquin County DA's Office and request that they finally take action against the Escalon Livestock Auction. More than that - call or email the local newspapers to which we've submitted our press release, asking them to blast this story to the public!
Raising awareness is key to the change these animals so deserve, and now is the time you and your voice can truly make a difference for those poor souls still in need!
San Joaquin County District Attorney's Office
209-468-2400
222 E. Weber Avenue, Second Floor, Room 202
Stockton, CA 95202
Or go their Facebook Page and share our report and make your voices heard!
Press Contacts:
The Modesto Bee : 209-578-2000
The Sacramento Bee: 916-321-1001
San Francisco Chronicle: 415-777-1111
San Francisco Examiner : 415-359-2600
San Francisco Bay Guardian : 415-255-3100
KPIX CBS San Francisco: Go to their Facebook Page and share our report.
NBC Bay Area: Go to their Facebook Page and share our report.
About Animals' Angels, Inc:
Animals' Angels Inc. is a 501 (c)(3) non-profit organization incorporated in Maryland with full-time investigators working in the United States. Our focus is on fighting animal cruelty and improving conditions for farm animals through investigations, public awareness campaigns, and education.
Contact:
Sonja Meadows, President
www.animalsangels.org
443-821-3343