Epic Shark Diving Expeditions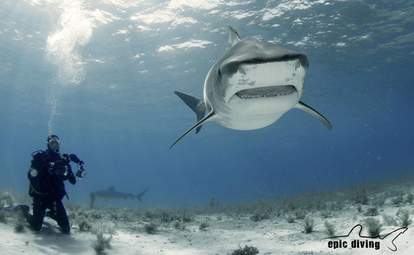 Shark Diving can be among the very most thrilling encounters folks have diving. There are loads of dedicated shark enthusiasts that travel the world in search of meeting with specific shark species. Although there are several famous hotspots, such as the Galapagos Islands and Cocos Island, The Bahamas offers a number of the greatest up close encounters with a few of the bigger shark species.
The Bahamas have been really proactive at protecting sharks and understanding their worth in ecotourism. In 1992, they set a ban on long-line fishing in place which had a huge impact on protecting sharks. This was followed by setting up a national marine sanctuary in 2011.
Epic Diving offers dedicated shark diving expeditions for numerous marquis species. From the omnipresent reef shark, the larger-than-life tiger shark, to the ultra rare oceanic whitetip and great hammerhead, these excursions offer nonstop heart-pounding excitement. They company's dive boat, M/V Thresher, moves between isles for the best meetings with the different species during the appropriate seasons.
The year starts off in Bimini where guests dive together with the Great Hammerhead shark, a species that is generally hard to find and quite rare. Bimini has now become a world hotspot for this species, offering reliable close up encounters from January to March. During these trips, nurse and bull sharks, along with stingray will be also often seen by divers. The dives are shallow, generally between 20 - 40 feet deep.
In March, Thresher moves to Cat Island, among the family islands of the Bahamas. Over the past few years, this little isle has become world famous for it's unbelievable Oceanic Whitetip Shark diving. A pelagic species, the oceanic whitetips favor deep water and there's no better place on earth than Cat. The isle has a steep shelf with incredibly clear, deep water offshore. Divers can snorkel with the oceanics for close and safe interaction with the sharks. SCUBA diving is conducted as an effortless drift with an average depth to 20 - 30 feet. During these encounters in the bottemless Atantic, guests will frequently see dusky sharks and silky, as well as chance encounters with blue and white marlin. Closer to walls and the unbelievable reefs of the isle, reef, nurse and lemon sharks are regulars, with the occasional tiger and hammerhead sharks that often make an appearance.
Epic Diving spends the rest of the year on the West End of Grand Bahama Island at the world renowned Tiger Beach. This location offers divers close, cage-free tiger shark diving. These huge predators can reach lengths of 16 feet and have an existence that is larger than life underwater. Diving is done in shallow, clear, warm water, with depths that range from 15 feet up to 50 - 60 feet on some of the deeper reefs. Aside from the tiger sharks, divers will be encompassed by countless reef and lemon sharks, and have the opportunity to see an occasional great hammerhead passing by.
Epic Diving's operation is top notch and safety is the upmost concern. The conservation-minded operation gives detailed shark diving briefings before guests get in the water and share their passion for sharks with everyone. Contact to begin an unforgettable shark diving experience!