Just three years ago, Humane Society International launched the #BeCrueltyFree campaign, the largest initiative in the world to end animal testing of cosmetics. Since then, we've celebrated some historic successes and important milestones, but there's still a long way to go before animal suffering is eliminated from the cosmetics industry. So, this World Week for Animals in Laboratories, let's take a look at what the #BeCrueltyFree campaign is achieving globally.
First up, let's meet the #BeCrueltyFree team: Kate, Sara, Hannah, Alokparna, Emily, Ra Mi, Susie, Helen, Tina, Claire, Beki, Antoniana, Troy, Helder and Irene are just some of the awesome people working hard in countries all over the world to end cosmetics cruelty. And here are their #BeCrueltyFree status reports.
Australia
Status: Cosmetics animal testing remains legal, although believed not to take place for finished products. Industry sources note that cosmetic ingredients new to Australia may be subject to the same animal testing requirements as industrial chemicals. And it remains legal to sell cosmetic products and ingredients tested on animals in other parts of the world.
#BeCrueltyFree campaign: Last year we worked with the Green Party to help launch the End Cruel Cosmetics Bill, worked with all parties to achieve a cross-party motion supporting a ban, and contributed expertise for a Labor party public consultation that revealed 92 per cent of respondents support a ban on cruel cosmetics. Our discussions with politicians, regulators and companies are ongoing.
Get active: Sign the pledge at www.becrueltyfree.org.au
Brazil
Status: Although animal testing is not required for most non-medicated cosmetics, it's not banned either, and references to toxicity tests on live animals are still pervasive in Brazil's cosmetics safety assessment guidelines, which some companies perceive to be a requirement.
#BeCrueltyFree campaign: Following an HSI cosmetics regulatory science workshop in 2012, Brazilian authorities revised the country's cosmetics guidelines to recognize all available animal testing alternatives. In 2014, cosmetics animal testing was banned in the state of Sao Paulo, and we've generated high-profile campaigning and lobbying nationwide, creating the political momentum to see a bill launched last year. Our team in Brazil continues to work with the Senate to ensure that the final law contains an air-tight ban on animal testing for all cosmetic products and ingredients (because the current government bill contains critical loopholes that will not prevent most new animal testing, and even some campaigners are misguidedly championing this bad bill!)
Get active: If you live in Brazil, help us by sending an e-card.
Canada
Status: Canadian law neither requires nor prohibits animal testing to demonstrate cosmetics safety, although industry sources have confirmed that some amount of animal testing does still take place.
#BeCrueltyFree campaign: We've raised awareness like crazy over this past year, with awesome celebrity supporters like Laura Vandervoort, Tricia Helfer, and Kristin Bauer van Straten, as well as an eye-catching subway poster campaign, and social media push. We're busy lobbying policy makers, too, and you can add your voice here.
China
Status: Thanks in part to the #BeCrueltyFree campaign in Beijing (and also we suspect to our success in India), officials announced in June 2014 that animal testing is no longer legally required for some domestically-produced cosmetics. Animal testing (undertaken in Chinese laboratories) for foreign-imported cosmetics is still mandatory. While some large foreign companies could manufacture their products within China to avoid final product animal testing, the China FDA could still require some new animal testing on ingredients new to China. In any case, the CFDA has confirmed that post-market testing will also increase, meaning we're a long way from any cruelty-free company being able to guarantee its ethical policy in China. In the meantime, we're sponsoring training sessions for Chinese scientists on how to use cutting-edge non-animal tests to assure safety.
#BeCrueltyFree campaign: Our team in Beijing celebrated the June rule change but aren't about to take a break. We made history with the first ever celebrity poster campaign in China for an end to cosmetics cruelty, and we use Weibo social media and eye-catching street events to raise consumer awareness.
Get active: Live in China? Sign the pledge.
European Union
Status: The EU banned animal testing of cosmetics in 2009; and banned the sale of newly animal tested cosmetics in 2013.
#BeCrueltyFree campaign: We teamed up with LUSH Cosmetics to collect nearly half a million petition signatures to ensure the final sales ban was implemented.
India
Status: India banned animal testing of cosmetics, as well as the import of all newly animal tested cosmetics, in 2014.
#BeCrueltyFree campaign: Our India team worked tirelessly to achieve these bans, and team leader Alokparna Sengupta was the first animal campaigner to receive the ban notification in person! Watch her video clip here. We've since launched a 'tip off' phone line to catch any illegal cosmetics animal testing, and are shifting our focus to end the use of animals in other product sectors.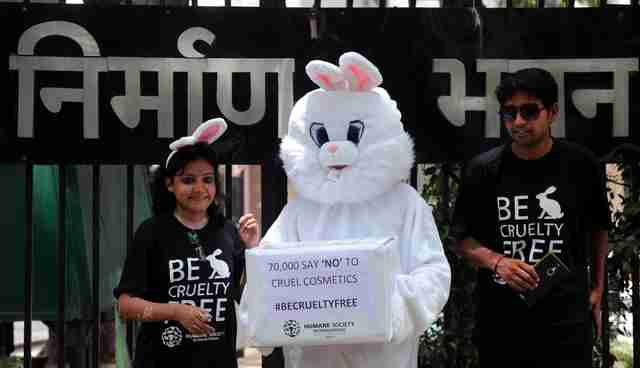 Japan
Status: Animal testing isn't required for most ordinary cosmetics, but the law doesn't ban it either so companies are free to choose. Animal testing is required by law for cosmetic products classified as 'quasi-drugs'.
#BeCrueltyFree campaign: We have engaged Japanese Diet members (politicians) in dialogue – many for the first time ever – about ending animal testing of cosmetics. Progress will take time in Japan, but the momentum we've achieved elsewhere across Asia adds pressure in Japan to engage further.
Get active: Support #BeCrueltyFree Japan.
South Korea
Status: In March this year Congresswoman Moon Jeong-Lim launched a bill to ban the sale of newly animal tested cosmetics where non-animal alternative tests are available and accepted in South Korea. This bill is a first step but has limited scope – equivalent to EU policy in 2004.
#BeCrueltyFree campaign: Our goal is now to increase the availability of non-animal tests in South Korea, as this is the only way to ensure the bill (if passed into law) will spare animals from testing. Our lobbying has already contributed to the government pledging substantial funds for the establishment of the first Korean Centre for Alternatives.
New Zealand
Status: Following intensive #BeCrueltyFree campaigning, the New Zealand government has agreed to ban animal testing of cosmetics by amending the Animal Welfare Act.
#BeCrueltyFree campaign: This legislation cannot affect sales, and so we'll continue to campaign to secure a marketing ban on animal-tested cosmetics.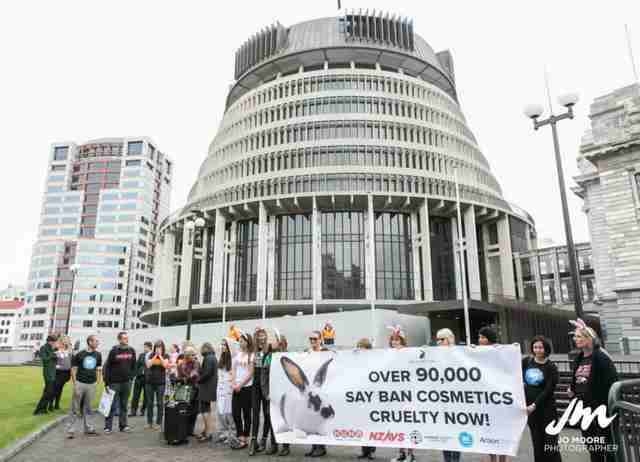 Taiwan
Status: This month the #BeCrueltyFree Taiwan campaign joined Legislator Wang YuMin at the Parliament in Taipei to launch a bill to ban cosmetics animal testing and the sale of animal-tested cosmetics.
#BeCrueltyFree campaign: The bill already has the support of 19 legislators, but we will need to work hard to ensure that the bill is passed into law.
Get active: Live in Taiwan? Sign the pledge.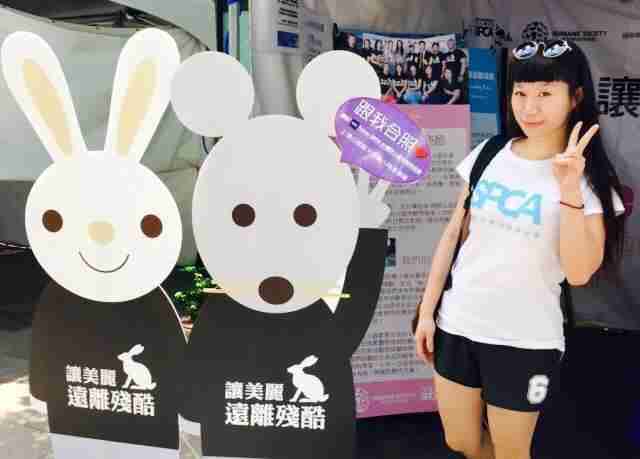 USA
Status: Animal testing of cosmetics is not required by law (although it is required for new chemical ingredients) but it is not banned either, and therefore it continues.
#BeCrueltyFree campaign: Our campaign in the USA is co-ordinated by The Humane Society of the United States and the Humane Society Legislative Fund. Last year, #BeCrueltyFree USA spearheaded lobbying efforts with federal legislators to introduce the Humane Cosmetics Act, which was endorsed by more than 140 cosmetics companies and stakeholders. This year we will be stepping up lobbying pressure to ensure that cosmetics cruelty is banned in the United States.
Get active: Live in the United States? Urge your politicians to support the Humane Cosmetics Act.