Obama Predicts Rising Number Of Endangered Species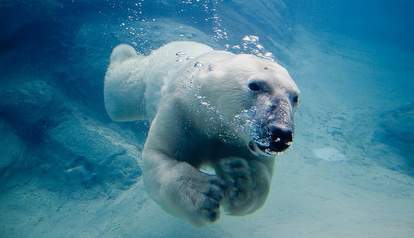 <p> <a class="checked-link" href="http://www.flickr.com/photos/irishwildcat/3270598289/in/photolist-6zXaBT-39ZNcx-qPjLzs-5YgDDJ-4fsyGe-d5rFH-zZhRR-bsozXc-iTPHWT-34rbHK-84xgMj-d5rLS-4dHV6E-5bjJ5K-9jNaoo-45t6Yx-5Z1EVF-9eQJ2g-kw1VRZ-62fEfR-jdzVP7-7puUDJ-fZy68-eu7qT-wZqVn-5cpSJh-7EfzuJ-dGWqKo-dCB8jv-7EbJpp-dGQXqc-dGWrff-bm3tp4-dGQWoH-9seQyp-7Efzpb-dqtYTw-7Efzwh-7EbJme-aJ7YpF-pPMpkw-6FEwae-6sz8cU-ptZt9-74qzFp-N8dtY-e4MGoQ-85cJv-8zH6wp-7ZjPt5">Flickr/irishwildcat</a><span></span> </p>
President Barack Obama announced his $4 trillion budget for the 2016 fiscal year on Monday, and animals were not left out. The proposal cites growing expenditures needed to protect the country's endangered species in 2016, reports the AP.
Specifically mentioned was the Edith's checkerspot butterfly, a species found across North America that has already been feeling the effects of habitat loss and climate change. Two subspecies are listed under the federal Endangered Species Act. The butterflies are expected to experience huge declines as climate change worsens, seeing major population extinctions in many areas. The 2016 budget proposal reads:
Climate change is expected to fundamentally alter ecosystems in ways that are costly to those systems and the people who depend upon and value them. While some species may be able to move to more suitable climates, others may be unable to and could be driven to extinction. As populations decline due to the impacts of existing stressors-such as habitat loss-coupled with climate change, the number of species needing Federal protection and the costs of Federal species recovery efforts will likely increase. For example, climate change has already brought on a mismatch between the life cycle of the Edith's checkerspot butterfly and the timing of the flowering plants it depends on, causing the butterfly's population to crash along its southern range.
The plan also addressed a major source of climate change: oil and gas emissions. The proposal seeks to increase funding for the U.N. climate fund, renewable energy and energy-efficiency programs, and tighten regulation of oil and gas drilling. It also aims to increase funding for the Environmental Protection Agency from $8.1 to $8.6 billion. Conservationists applauded the move.
"This budget is an important first step toward rebuilding the ability to protect our air, waters and lands and to continue to deal with climate change," Scott Slesinger, legislative director for the Natural Resources Defense Council, said in a statement.