Everyone Is Falling In Love With This Orphaned Baby Manatee
His name is Emoji, and he loves romaine lettuce.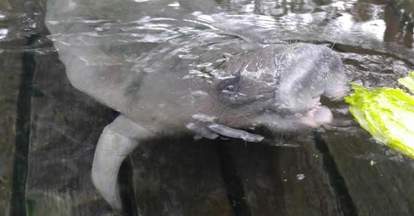 Update 1/31/17: Emoji sadly passed away earlier this week, having never fully recovered from the severe effects of ingested plastic, The Lowry Park Zoo said in a statement. "Emoji is a tragic illustration of the consequences that simple human actions have on the world around us," said Dr. Ray Ball, senior veterinarian for Tampa's Lowry Park Zoo. "Now more than ever, we must hold ourselves accountable, whether that's keeping trash and plastics out of our waterways or being more mindful of potential consequences of propeller strikes on wildlife while boating."
When an orphaned baby manatee was found in Florida's Caloosahatchee River in early November, the Florida Fish and Wildlife Conservation Commission knew exactly where to take him in order to give him a chance to survive. The Lowry Park Zoo is located in Tampa, Florida, and it's home to one of just three federally contracted and permitted manatee rehabilitation facilities in the state.
Emoji being examined during his first days at the hospital

| Lowry Park Zoo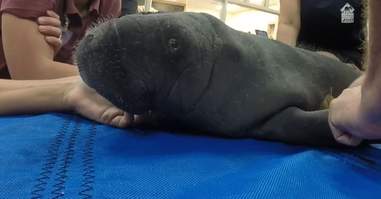 Emoji was emaciated and weak when he arrived at the hospital

| Lowry Park Zoo
Emoji was in critical condition when he arrived at the hospital. Estimated to be just 2 weeks old, he weighed 66 pounds and was emaciated. "He was having a difficult time maintaining his body temperature," Dr. Ray L. Ball, the senior veterinarian who treated Emoji, told the Dodo. "He was very weak and lethargic." Dr. Ball and his staff discovered Emoji had consumed debris and plastic bags.
"Manatees, especially orphaned manatees, will ingest fishing hooks and line while grazing for food," Ball said.
Emoji's recovery has been complicated by the discovery of a common health issue with manatees called disseminated intravascular coagulation (DIC), which means Emoji was both clotting and bleeding at the same time. Fortunately, Ball and the manatee care team at the zoo have been researching DIC for years, and Emoji was able to be treated and stabilized.
The wrinkles at the bottom of Emoji's body indicate that he is underweight. They should be filled out.

| Julie LeRoy
"I am surprised at his recovery. I really didn't know how it would go," Ball said.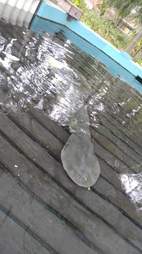 Manatees may look clumsy but they are graceful swimmers, thanks in part to their tails

| Julie LeRoy
Since arriving at the hospital, Emoji has gained 2 pounds and is continuing to improve. He is still taking a bottle but is eating solid foods. Even though everyone has fallen in love with him, the goal is giving him as much independence as possible so he can eventually be released back to the wild.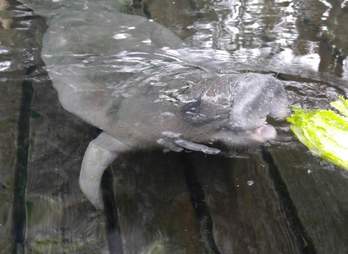 Emoji is on the mend and enjoys romaine lettuce

| Julie LeRoy
Ball said Emoji will need to grow up and weigh at least 450 pounds to survive on his own, so it may be two years before he is released. He should become well enough to move on to a controlled, secondary rehab with one of the hospital's partners - which include the Cincinnati Zoo, the Columbus Zoo and Homosassa Springs Wildlife State Park - until that time. In the meantime, he enjoys chasing romaine lettuce around his pool.
What makes the zoo's David A. Straz, Jr. Manatee Hospital stand apart is that it's the only nonprofit hospital designed to treat and care for critically injured, sick and orphaned wild manatees. It is also the staff, led by Ball, who helped the zoo earn The American Animal Hospital Association (AAHA) accreditation viewed as the gold standard of veterinary excellence. The Lowry Park Zoo is the first zoo in the U.S. and Canada to earn AAHA accreditation.
Things like common respect for the environment play a huge role in the lives of manatees. Throwing garbage into the water can be a matter of life and death. When talking about Emoji, Ball asks, "How many animals did this happen to that we don't know about or have the good fortune to help and intervene?"
Emoji should be released back to the wild within two years

| Julie LeRoy
Manatees also fall victim to motorboats. Other patients recovering at the hospital include manatees with painfully visible injuries to their backs and tails, caused by the sharp blades of outboard motors on boats. In recent years, signage has been placed in shallow waters, where manatees like to swim in the colder months, to warn boaters of their presence.
The zoo has cared for more than 400 wild manatees. You can "adopt" a manatee at the hospital here, find out about the educational programs they offer here and learn more about how you can help manatees here.