'Skeleton' Tigers Forced To Perform For Shocked Audience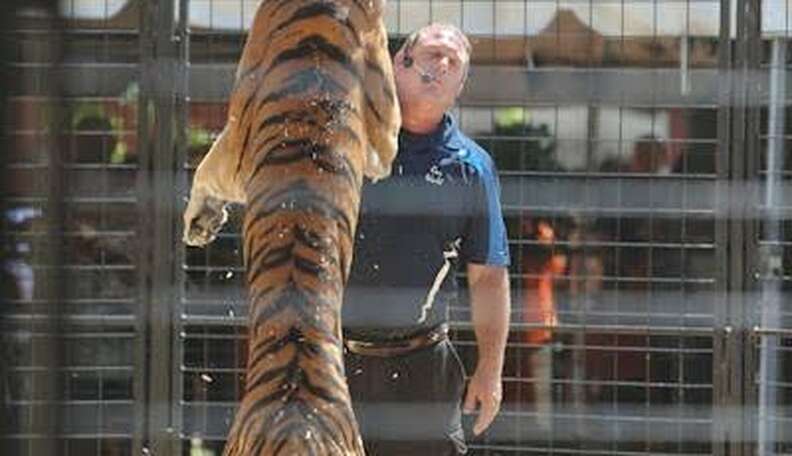 <p><a href="https://www.facebook.com/MissouriStateFair/photos/a.376542929354.162250.354035374354/10153270694159355/?type=1" target="_blank">Facebook/Missouri State Fair</a></p>
<p><a href="https://www.facebook.com/MissouriStateFair/photos/a.376542929354.162250.354035374354/10153270694159355/?type=1" target="_blank">Facebook/Missouri State Fair</a></p>
Thousands of people flooded to the Missouri State Fair this week to get a glimpse of one of the main attractions: a group of performing tigers. They were shocked by what they saw.
Photos show tigers who appear severely emaciated, with prominent spines and hip bones. Some fair visitors have said that the cats also appeared lethargic, or even drugged. One described them as "skeletons."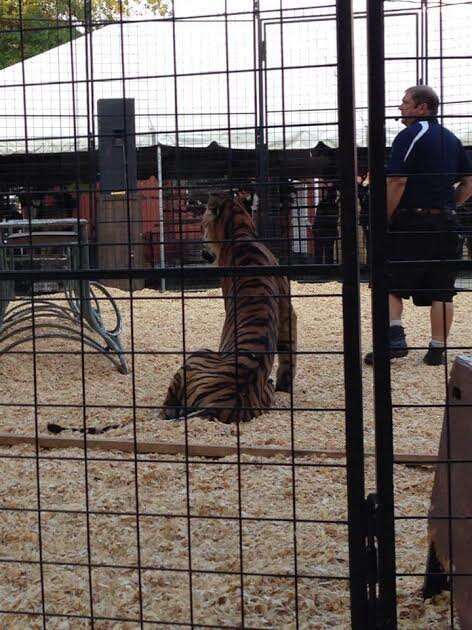 "I stare at tiger pictures all day long and a lot of them are in bad situations," Susan Bass, public relations rep for the Florida-based Big Cat Rescue, told The Dodo. "[But] it's been awhile since I've seen animals in such bad shape."
Julie Hanan, of the Minnesota-based Wildcat Sanctuary, told The Dodo that her group has been flooded with "desperate pleas" from people who've visited the fair and were shocked by the state of the animals.
Abbie Knudsen, a biologist with Missouri's National Tiger Sanctuary, has heard similar concerns from the public. "I have heard tons of accounts from people that have seen the animals, and visited the animals firsthand, that they do not look in good body condition," she said.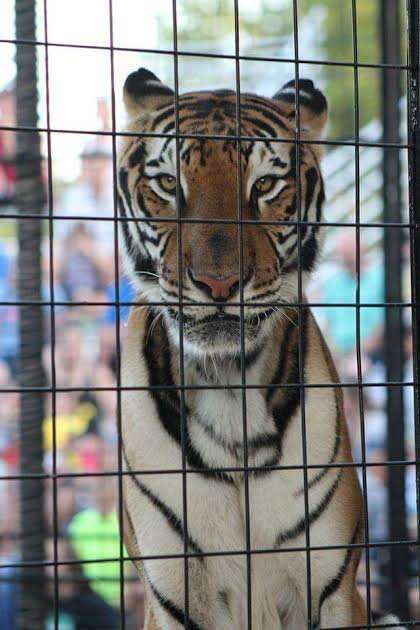 The show, called the Amazing Rainforest Experience, is run by Robert Mullen of the Orlando, Florida–based PM Productions Entertainment Inc., a production group that features traveling shows with a host of exotic animals. The group did not immediately return The Dodo's request for comment.
The state of the tigers raises concerns about food deprivation, a common method used by trainers at circuses or places like SeaWorld to keep animals in line. "Of course we can't speak to the exact issue with this exhibitor, but we have seen in the past that they will tend to keep cats hungry to perform," Hanan said.
In an interview with a local outlet, Mullen said that he fed the tigers 13 to 14 pounds of chicken daily. Both Bass and Hanan said if this is all the tigers are getting, the diet is insufficient: They would need more food, as well as red meat, bones and organs, to thrive.
Whatever the reason, it's evident from the photos that the animals aren't healthy. In one photo that shows a tiger on his hind legs, the ratio between the animal's waist and his hips is disturbing.
Of course, even if the animals weren't emaciated, there are concerns about carting big cats from state to state and forcing them to perform for tourists.
"Regardless of what you see in the photo, when you have performing animals, like lions, tigers, bears, those are not natural behaviors," Knudsen said. "You have to train them...often that training involves negative reinforcement." Cats she's taken from similar situations have been emotionally scarred by the treatment they've received, she added.
And unfortunately, it doesn't look like this mistreatment is new. A 2013 video released by the International Fund for Animal Welfare appears to feature the same company and shows several disturbing interactions between a trainer and the cats.
When a tiger initially tries to exit the stage, the trainer deters him and the animal listlessly makes his way through his routine. When the trainer later tries to shut a door on him, the tiger takes a swipe at him.
Another scene features a severely underweight cougar, his hip bones standing out like blades. When he's reluctant to leave the stage, the trainer grabs him by his collar and literally drags him out as he resists.
Bass and Hanan said that no one engages in direct contact with the big cats at their sanctuaries, and that in this case it's a recipe for disaster.
"Hungry cats make for dangerous cats," Hanan said. "It's a public safety issue, and you have a guy in a cage with apex predators who are obviously hungry."
They also expressed concern with the methods Mullen uses to train his animals.
"As we always say, cats are apex predators," Bass explained. "They're wild. They're not meant to be trained. You can clearly see that first he's grabbing the cougar by the neck, and he's got a whip out - he's intimidating them."
In a statement sent to The Dodo, the Missouri State Fair said that the tigers were being regularly inspected, implying that the animals were in satisfactory condition:
In accordance with the State Fair's Animal Care policy, all animals and livestock shown, housed or displayed, shall receive care that is healthful and consistent with accepted husbandry practices and the rules and regulations set forth by the Missouri State Fair. This policy applies to animals in entertainment acts, such as the Amazing Rainforest Experience, as well. The Missouri Department of Agriculture state veterinarians monitor the tigers twice per day. These practices reflect the care and concern that Missourians have for livestock, poultry, companion animals and wildlife.
And in an interview with local outlet KSHB, fair director Mark Wolfe denied that anything was wrong with the tigers.
"If you haven't been here to see the show up close and personal, then what you're seeing in pictures and things... doesn't carry a lot of weight," he said. "What people are hearing is people from New Hampshire and Utah that aren't even here, haven't seen it. It's more like a movement."
He added that the tiger team had to throw out food that the tigers haven't touched. A vet from the University of Missouri who's been overseeing the tigers also told the outlet that they were all healthy.
But all three big cat experts The Dodo spoke with said that they have been hearing complaints from people who actually visited the tigers - and that, in their own opinions, the condition of the animals was alarming.
"We are not necessarily saying that the cats are being starved but it appears that they are being kept intentionally hungry so they are motivated to perform, which we've seen before with exhibitors," Hanan said. "This is not healthy for the animal nor is it safe for the public."
Unfortunately, even when officials do want to step in, it's notoriously difficult to regulate such traveling shows and circuses because they rarely stay in one state or town long enough for local officials to crack down on them.
However, Bass, Hanan and Knudsen are hoping that the collective public outcry can help save these animals. In the meantime, the tigers continue to perform - despite their unsettling appearance.
"They do not look well," Knudsen said.
If you'd like to help, you can let the Missouri State Fair know how you feel by clicking here. The Wildcat Sanctuary has also compiled a list of ways to help.
UPDATE: We spoke with an alleged former employee of Mullen's about the mistreatment claims. You can read her story here.