Elvis has a little bit of a different family than other black rhinos in the land.
Elvis the black rhino stops by to get a drink with his former keeper, Kamara.Lewa Wildlife Conservancy
Elvis's mother, Mawingo, was blind. Years ago, when Elvis was born in the wild expanses of Lewa Wildlife Conservancy in Kenya, this rare black rhino baby was destined to be lost just like the other children his disabled mother had birthed.
"Unfortunately, all of Mawingo's previous calves, before Elvis, were predated on as a result of her blindness," Wanjiku Kinuthia, of Lewa, told The Dodo. "We made the decision to hand raise Elvis to ensure his survival. Black rhinos remain critically endangered, and every individual counts in saving the species from extinction."
Elvis getting a check-up.Lewa Wildlife Conservancy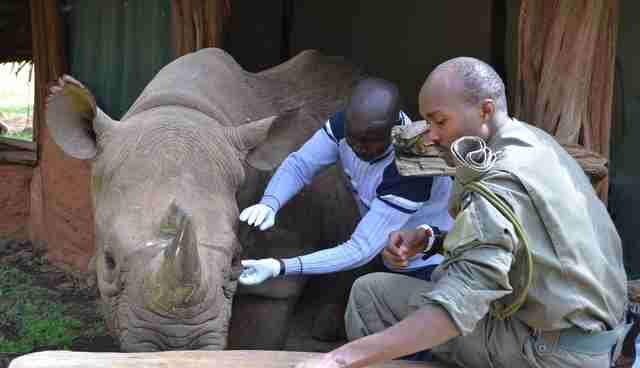 And the people at Lewa know just how to step in to help.
Elvis wandering around the offices.Lewa Wildlife Conservancy
Elvis spent years being hand raised by the people at Lewa until he was finally reintroduced to the wild. "Elvis was cared for by humans till he was four years old (and able to care for himself)," Kinuthia said. "We then reintroduced him to the wild, and we are delighted to see that he is thriving out there as a wild rhino, how they should all live."
Elvis greeting the rangers around the office grounds.Lewa Wildlife Conservancy
But Elvis, though self-sufficient, often comes back to visit.
Lewa Wildlife Conservancy
He wanders the grounds among his bipedal friends. He even sticks his head in through the windows of houses, to see what's cooking in the kitchen.
Elvis might be one of the rarest and most majestic animals on earth - but he's also just one of the family.
Elvis with his former keeper Kamara and ranger Ian.Lewa Wildlife Conservancy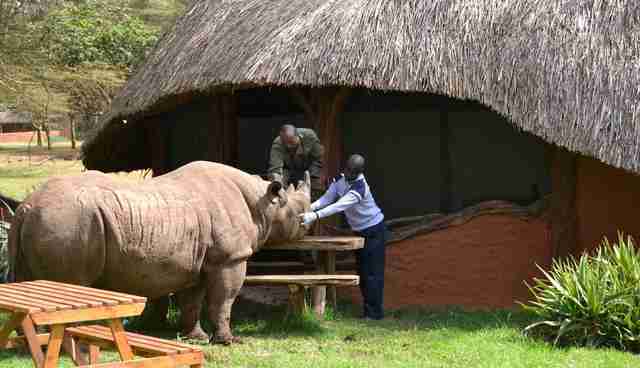 Have a tip? Email sarahv@thedodo.com.