Dog Still Smiles Even After Waiting 1,265 Days At The Shelter
1,265 days. Almost three and a half years. That's how long Elijah has been waiting for his chance to be part of a family.
Gabby Stroup
In 2013, Elijah was found as a stray near New York's busy Long Island Expressway by a couple of police officers who brought him to the Brookhaven Animal Shelter. Little is known about his life before he was found, but that day was the first of many that included a warm bed, medical care and a full belly.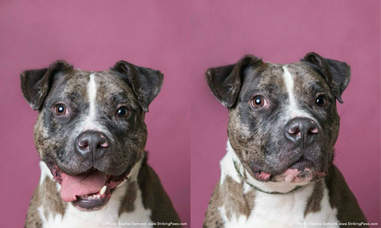 Sophie Gamand
Sadly, weeks turned into months, and months turned into years. Elijah has had three birthdays without presents from a mom or dad. He's had three Thanksgivings without someone slipping him a piece of turkey or two under the table. Three Halloweens without anyone dressing him up in a silly costume.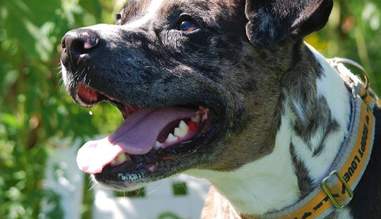 Gabby Stroup
Through it all, Elijah still smiles. Every time someone walks up to his cage, every time a volunteer takes him for a walk - pretty much any time a human is near - he beams with delight.
Gabby Stroup
"He's just happy being someone's companion. He really engages with you," Ashley Boyd, director of Brookhaven Animal Shelter, told The Dodo. "Even after three years at the shelter, he's never become distant from people. He has a really desirable personality, and he's just a really good dog."
Help Elijah Find His Forever Home
Estimated to be 6 to 7 years old, Elijah still has a ton of energy. He can amuse himself for hours just playing with his ball, as shown on the Facebook page created to help get him adopted.
Ashley Boyd
He recently spent a weekend in New York City with temporary foster parents and behaved very well, loving the stimulation of the bustling metropolis during his walks before snuggling up on the couch afterward.
"He's a huge lap dog!" said Boyd.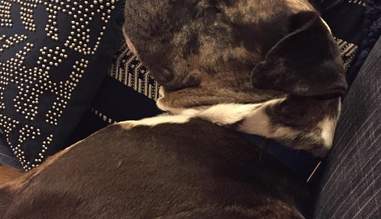 Colby Webb
And huge is right. At 75 pounds, Elijah isn't exactly a small guy. Boyd fears this is part of why he is constantly overlooked. Energetic and large could make it difficult for the right person to get to know Elijah, but he takes direction well and is eager to please - he just needs training and regular exercise.
"After a few walks per day, Elijah is happy to cuddle up and relax - he's actually a great city dog!" said Boyd.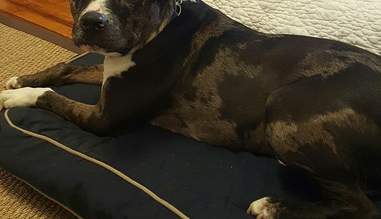 Colby Webb
Jonnie Coe
"He's a gorgeous, sweet guy who will need some adjustment, but I really can't say anything bad about him," Gabby Stroup, Southold's manager, told The Dodo. Stroup is optimistic that, given time and training, a new family isn't too far away.
Colby Webb
Elijah's ideal home would be without cats or small children. He is looking for a foster family in the New York area, but can be adopted to further states with transportation. Stroup will take into account all interested families as long as they are willing to work with Elijah.
Gabby Stroup
1,265 days, three and a half years, have not deterred Elijah from being his happy self. For more information on adopting Elijah, please contact Southold Animal Shelter or call 631-765-1811.