Elephants, Lion To Be Eaten At Presidential Birthday Party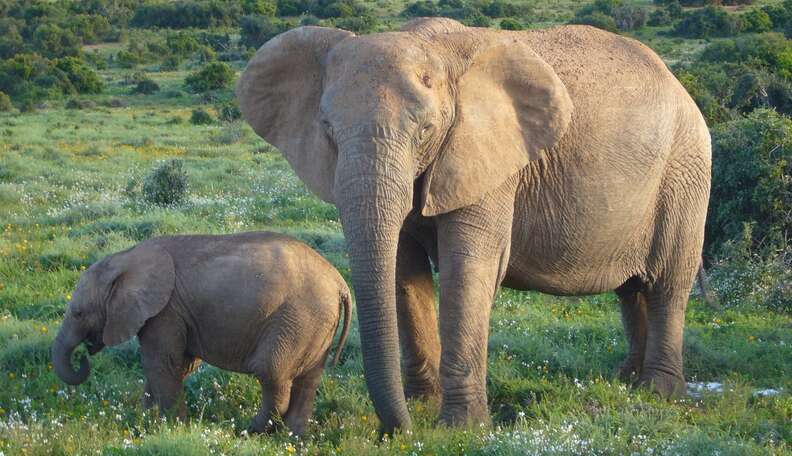 <p> <a href="http://upload.wikimedia.org/wikipedia/commons/a/a9/African_Bush_Elephants.jpg">Wikimedia</a> </p>
Several iconic African animals will be on the menu at a lavish party planned for the birthday of Zimbabwe's President Robert Mugabe.
Government officials will reportedly slaughter two elephants, two buffalo, two sables, five impalas and a lion to feed guests at festivities later this month for Mugabe's 91st. The animals were pledged for donation by Tendai Musasa, a wealthy land owner with ties to the administration, Zimbabwe's The Chronicle reports.
"This is our way of supporting the function and to ensure a celebratory mood in our community as well," Musasa told the newspaper. "At the moment we are making arrangements with the parks and Wildlife Management Authority to slaughter these animals a few days before the day."
More than 20,000 people are expected to attend the event, and not everyone is thrilled by the choice of food to be offered, which hardly comes as a surprise to conservationists working in the country.
Johnny Rodrigues, from the Zimbabwe Conservation Task Force, told The Guardian that animals, including elephants, are often killed and eaten during national celebrations.
"This is totally unethical and should not be allowed," says Rodrigues. African elephants are endangered, and at the rate people are slaughtering them, they could be extinct by 2020. Lions, too, are under threat, with their populations having been cut by half in the last 30 years due to various human threats. The U.S. is considering listing these animals as "threatened" under the Endangered Species Act.