Ringling Bros. Allegedly Kept Elephants Locked In Boxcars For 4 Days Straight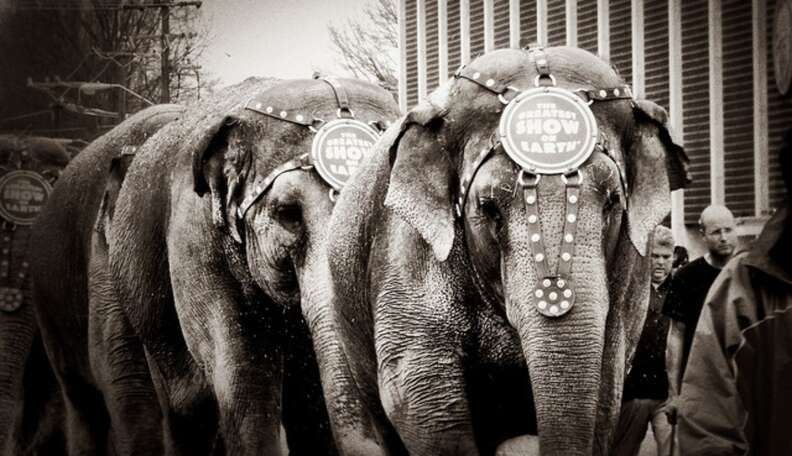 <p> Flickr/Doug Anderson </p>
<p> Flickr/Doug Anderson </p>
The veterinary care for elephants at Ringling Bros. and Barnum & Bailey Circus has come under fire yet again - this time, animal advocates are alleging that the company violated the Animal Welfare Act (AWA) by keeping animals in boxcars for a stretch of four days.
The complaint, sent by PETA to the U.S. Department of Agriculture (USDA), alleges that three elephants, named Nicole, Sara and Rudy, were confined in their boxcars without access to the outdoors during a recent stint in Miami. It stems from a recent report compiled by USDA inspectors who directed Ringling to alter its veterinary practices. The report, provided to The Dodo, reads:
(USDA/APHIS)

The report also notes that the elephants were not given their required medications - some for over a span of four days. All three elephants mentioned in the report have histories of lameness and chronic foot problems, common issues for captive circus elephants. PETA alleges that these issues should be treated as violations of the law and punished accordingly.
"Failing to treat elephants for medical conditions is appalling, and doing so because these elephants were locked in boxcars for days at a time would be doubly cruel and illegal," PETA Foundation's deputy general counsel Delcianna Winders wrote in a statement. "PETA is calling on the authorities to hold Ringling accountable for breaking federal law again-and on families to stay far away from this despicable circus."
The group alleges that the confinement violates the Twenty-Eight Hour Law, which prohibits confining animals for such prolonged periods.
Steve Payne, a spokesperson for Feld Entertainment, Inc., the parent company of Ringling, told The Dodo that the company denies the allegations.
"There were multiple stops on the trip to Orlando," he said, adding that an attendant rides along with the elephants in the car when they travel. "When in orlando they were examined by veterinary staff and found to be healthy."
Payne also said that the USDA findings were due to a lapse in medical record-keeping, which the company is planning to fix.
This is hardly the first time that the company has faced such allegations - in 2011, Feld Entertainment was ordered to pay $270,000 in a settlement with USDA. It was the largest fine for a circus ever issued.
UPDATE - This post has been updated to include a comment from Feld Entertainment, Inc.