This Is What An Elephant's Life Is Supposed To Look Like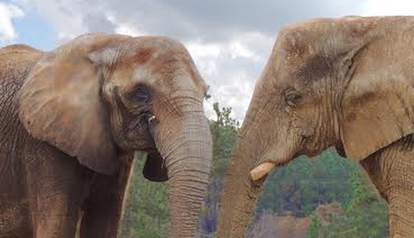 <p> The Elephant Sanctuary in Tennessee </p>
The journey lasted only a couple of hours, but the difference in the quality of life for three African elephants who were recently moved from a zoo to a sanctuary is massive.
Hadari, 33, Sukari, 31, and Rosie, 44, were recently transferred from the Nashville Zoo to the sprawling Elephant Sanctuary (TES) in Hohenwald, Tennessee. All three of the elephants were captured from the wild in Africa.
Hadari arrived first, in late September 2015.
HadariThe Elephant Sanctuary
Hadari

| The Elephant Sanctuary
Sukari arrived at TES next, on November 4, and Rosie arrived the next day.
"They are faring great!" Janice Zeitlin, CEO of TES, told The Dodo. "We are thrilled."
Sukari and RosieThe Elephant Sanctuary
Sukari and Rosie

| The Elephant Sanctuary
Another elephant from the Nashville Zoo, named Juno, was sent to the National Elephant Center in Florida, but died this past August - a mere 4 months after her arrival. It was the third death in three years at the Walt Disney-affiliated organization. Juno's death may have contributed to the Nashville Zoo's decision to send the rest of its herd to TES.
Zeitlin says the African elephant habitat at TES - which already has two other females, Flora, 33, who originally came to the sanctuary from a one-elephant circus, and Tange, 43, from a zoo in Georgia - is divided into three areas, in which the various elephants are held for now.
"[A sanctuary] is a big change from a zoo. [The elephants] get to make choices: 'Do I go in a barn or not?' 'Do I go outside?' 'Do I go inside?' 'Do I play in the mud?'" says Zeitlin. "The first few days are a little confusing and you can see them trying to figure it out. But they are beginning to relax. Sukari and Rosie have been playing in the trees this week and Hadari has been lying down in her habitat, which indicates she is very comfortable."
Sukari and RosieThe Elephant Sanctuary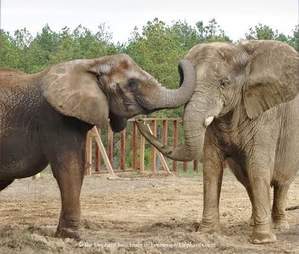 Sukari and Rosie

| The Elephant Sanctuary
This week, Tange met Sukari over the fence for the first time. Rosie and Sukari were already very close because they were together at the Nashville Zoo, Zeitlin says. "They are sleeping in the same stall together, eating together and really enjoy their companionship."
Sukari and Tange meet over the fence lineThe Elephant Sanctuary
Sukari and Tange meet over the fence line

| The Elephant Sanctuary
Hadari was kept separately from the others at the zoo because she really needed some individual attention - the zoo had been working to help her on her social behaviors with other elephants. "These elephants are not related herds and they were taken away from their families at such an early age that they don't know how to interact with their whole species," Zeitlin says.
Both Flora and Hadari are dominant females, according to Zeitlin, so it will be a slow introduction. So far, however, "they have done a great job across the fence line and it felt very safe," she says.
The smallest enclosure is 1.5 acres, the middle enclosure is 12 acres and the largest is 40, Zeitlin says. "We rotate them into the larger enclosures when they get to the know the sanctuary and the habitat."
The total number of elephants is 14 for which the sanctuary says it will provide lifetime care. Additionally, Zeitlin says, TES continues to work to build relationships with zoos and elephant owners. "We understand we share a common interest in wanting to make good choices and provide best care for elephants. We invite zoos and owners to see a sanctuary as a good option when they make decisions about retiring their elephants."