America Facing Strict Deadline To Save Elephants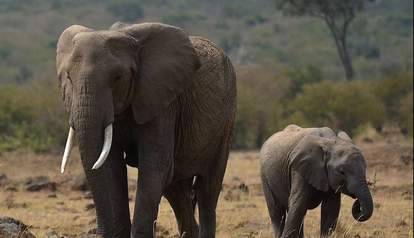 <p> Photo c. Kersin Brucher<a href="https://creativecommons.org/licenses/by-sa/2.0/" target="_blank"></a> </p>
Citizens are trumpeting for elephants all around the world. Historic news has vitalized the movement to ban the global ivory trade this spring.
First, on May 29, China made the stunning - if vague - announcement that it intends to eventually phase out its legal ivory industry.
Then, on June 2, California took a huge step closer to banning ivory sales when AB 96, the measure to close nearly all ivory trade loopholes in the state, soared through the State Assembly. After clearing the Appropriations committee, the bill to ban ivory and rhino horn sales passed the Assembly via a live vote 53 to 12. The roll call stayed open all day and received a final tally of 62 to 14. It now moves to the State Senate.
These recent landmark events in California and China have elephant lovers excited and optimistic - and both remind us that we still have a long way to go, at a time when elephants don't have a lot of time left. Elephants could be extinct in the wild in less than 10 years if the currenthorrific poaching rates continue unchecked.
China's announcement to phase out its legal ivory trade is extremely welcome news. China's legal trade provides the cover for the more than 63 percent of illegal ivory flooding the black market. Wildlife conservation experts agree that China is the single largest contributor to the current elephant extinction crisis, and closing down its legal trade can go a long way towards shutting down demand for ivory products.
However, as conservation groups like WildAid have noted, China has yet to announce timelines or goals for its phase-out. While China's announcement is extremely promising, we'll need clarification and - most importantly - follow-through to ensure these steps will truly help save elephants.
Meanwhile, efforts to end the ivory trade here in the US are flourishing in many states, even as some have hit temporary roadblocks. As important as China is to ending the elephant crisis, the US is the No. 2 consumer of illegal ivory products. Change begins at home.
And as China works on implementing its commitment to end its trade, it is more crucial than ever that the US stand up against wildlife trafficking through a full ivory sales ban.
"How can we ask China to do what the US has not?" asks Jen Samuel, president of the all-volunteer nonprofit Elephants DC. "True world leaders must lead by example. We must take swift action to ban ivory sales at home and abroad. The fate of elephants depends on it."
To that end, California's proposed ban is a vital step in stemming illegal poaching and making a statement to the world that impending elephant extinction must be stopped. Now that it has passed the State Assembly, the California ban now needs the support of the California State Senate by September.
Other states are also taking huge strides in banning ivory sales either this year or heading into 2016, much as the pioneering New Jersey and New York, with limited restrictions, did in 2014. For example:
We have brave public servants, tireless advocates, and ordinary concerned citizens to thank for the incredible progress we've made so far at the state level. Every email and phone call - every conversation with your neighbors - makes a difference.
But we're not there yet. An elephant is still slaughtered every 15 minutes, leaving a mourning family behind and threatening the very biodiversity of our planet. We must continue to fight for the end of the ivory trade both here in the United States and worldwide until every last elephant is safe and free.
Extinction is not an option. We must show China - and ourselves - that together we can make a better world for our children.
Photo: Billy Dodson | Elephants DC
To learn more about our work to advance elephant well-being and end the global ivory trade, visit us on www.elephantsdc.org, follow us on Twitter and like us on Facebook.
#BanIvorySales