This Is What Paradise Looks Like For Elephants
Luckily, a very generous donation was made to WFFT so that rescuers could move both mother and daughter to the WFFT Elephant Refuge near Cha Am, Thailand.
The little family arrived in July 2015. Rescuers named the baby elephant Pin.
"Little Pin will now never know the life of a working elephant, and never be separated from her mother," WFFT wrote.
Apple and Pin, who have formed a tight-knit herd with the other rescued elephants at the refuge, are never more than a few yards apart.
Apple and Pin join La Ong Dao and Kaew Petch, two elephants in their 50s who were also rescued from trekking. They also both toiled in the exhausting logging industry.
But all of that is behind this little herd of lucky elephants.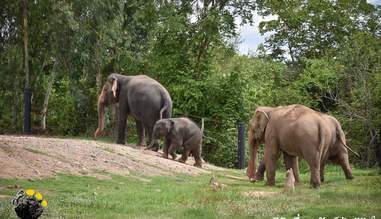 Wildlife Friends Foundation Thailand