Earless, Chained-Up Elephant Never Sees The Sun
This is Suraj.
The worn elephant is being kept at a remote temple in central India, one of the many captive elephants who live their lives in the shadows.
Wildlife SOS
Wildlife SOS
His name, Suraj, means sun in Hindi. But it's unclear when Suraj last saw the sun, as he spends all his days indoors, locked up in his tiny stone cell. He's chained to the walls by all four feet - and the chains have left painful wounds on his legs.
Wildlife SOS
Wildlife SOS
At some point during his murky history his ear was ripped off. "It was so long ago that no one even remembers how it happened," Suvidha Bhatnagar, PR representative for Indian rescue group Wildlife SOS, told The Dodo. "We suspect it could have been when he was captured from the wild as a baby and separated from his mother and herd."
Wildlife SOS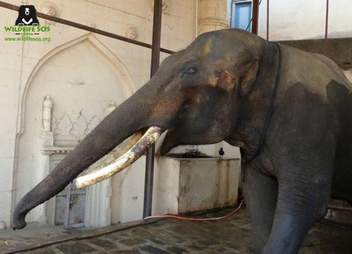 Wildlife SOS
Wildlife SOS can't reveal his exact location because it could jeopardize rescue efforts, Bhavnagar said, but is working on rescuing him. "We definitely want to save him from his misery," she added.
Sadly, while Suraj's plight has just come to light, there are many others like him. Wildlife SOS currently cares for 20 elephants who were rescued from tragic circumstances just like Suraj's, and were used for manual labor, begging and entertainment.
Wildlife SOS
Wildlife SOS
Suraj's future is still uncertain. But, perhaps for the first time, he has humans on his side.
"We are committed to saving Suraj ... and filling his future with as much light and love as possible," Bhatnagar said.
If you'd like to help rescue Suraj and care for the 20 other elephants Wildlife SOS has rescued, you can make a donation here.