Elephant Forced To Give Rides Is Freed Just In Time To Have Her Baby
"They live deep in the forest and they pretty much do as they please all day."
When rescuers walked Thong Kam and her 4-year-old daughter Bai Fern out of an elephant riding camp and into the forest, they had no idea they were actually rescuing three elephants.
Thong Kam was pregnant.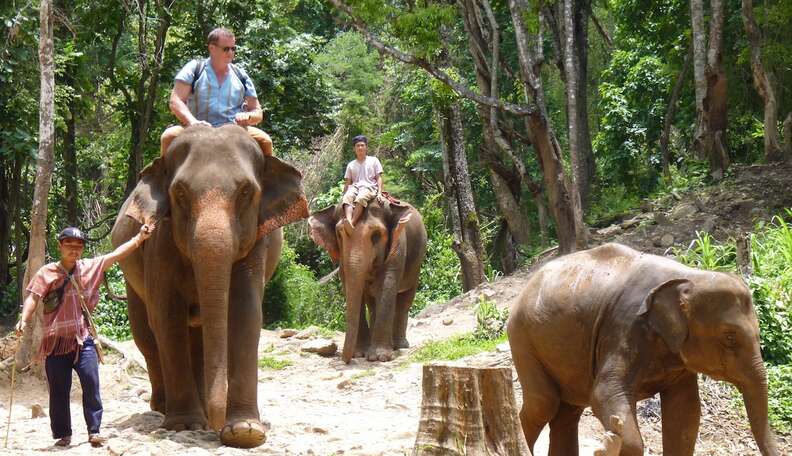 "Beautiful Sunti - which means 'peace' in Thai - was born on the 28th November last year in the depths of the forest and has lived there since then with his family," Sarah Blaine, of the Mahouts Elephant Foundation, told The Dodo.
The Mahouts Elephant Foundation works with the Karen hill tribe families who live in a remote village in the hills of northern Thailand and own elephants. The Foundation is trying to encourage the mahouts to shift from trekking camps to more sustainable models of tourism, where visitors can walk through the forest to see elephants like Thong Kam, Bai Fern and Sunti, rather than forcing them to give rides.
"Our aim is to return many more elephants to this vast area of protected forest," Blaine said.
Elephants in Thailand who were once used for logging were shifted over to the growing tourism industry after a ban on logging in the 1980s. "They have no choice but to send their elephants to work in tourism in the cities and a mahout with them," Blaine explained. "It's a terrible life for both elephant and man."
But Thong Kam's mahout tried to give her a better life by choosing a riding camp that didn't use heavy carts, which can cause sores and stress on the elephant's back.
"Thong Kam was in a neck riding facility, so tourists would ride on her neck and learn to be a mahout for the day," Blaine explained. Meanwhile, Bai Fern "would just wander around being bored and not able to get attention from her mom."
When given the opportunity to free Thong Kam and her family from the riding camp, her mahout embraced the idea.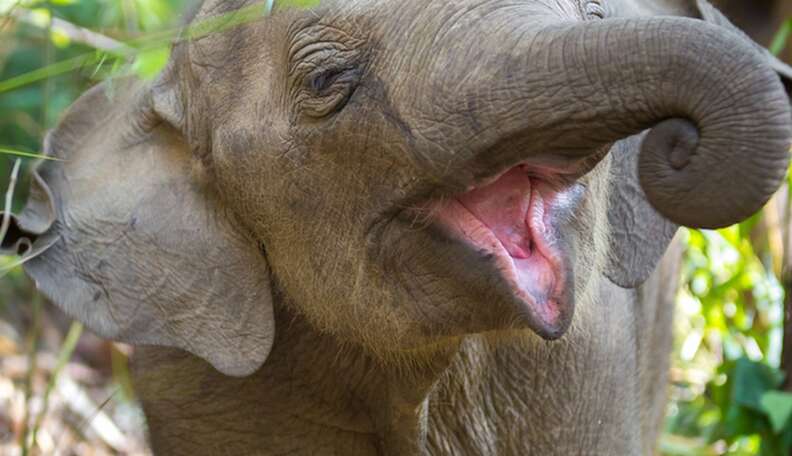 "There is now a real desire within the village and the mahout community here to return the elephants back to the forest," the Foundation explains. "The community wants to let the elephants just live in as natural way as possible, deep in the conservation forest."
Thong Kam and her family are some of the first elephants to be freed from working - and they seem to be enjoying themselves so far.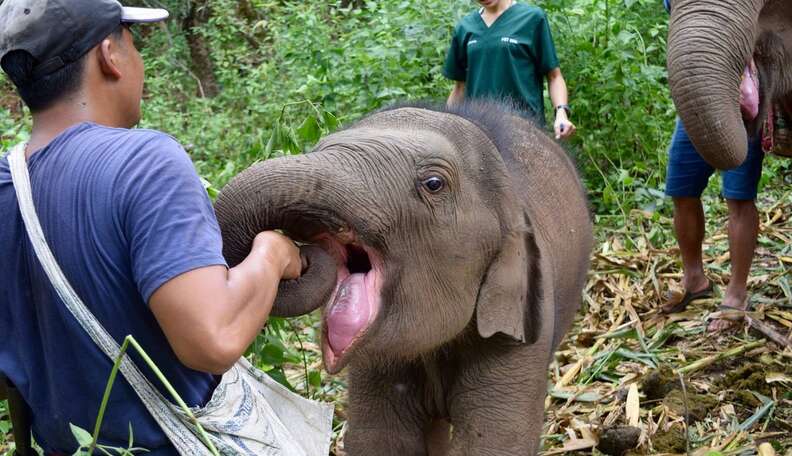 "They live deep in the forest and they pretty much do as they please all day," Blaine said. "They eat hundreds of different plants, trees, bark and soil. They live in a family group and are healthy and strong and our guests come in small groups to just watch them."