A young elephant calf was nearly lost forever when she got swept up in a river's strong current - but luckily her family rushed in to save her.
Sandy Gelderman was visiting the Ol Pejeta Conservancy in Kenya when she was lucky enough to witness a family of elephants crossing the Ewaso Ng'iro river, which was swollen from recent rains.
While the adults and older calves were able to make the crossing, the tiniest calf ran into trouble when she tried to enter the swift-moving waters. She quickly lost her footing, and was swept away by the current.
YouTube/Kicheche Camps
A video shows what looks like an adolescent elephant running after her, grabbing the little baby with her trunk and keeping her from being swept further downstream. She positions herself behind the little calf, trying to push her upstream as the family watches.
YouTube/Kicheche Camps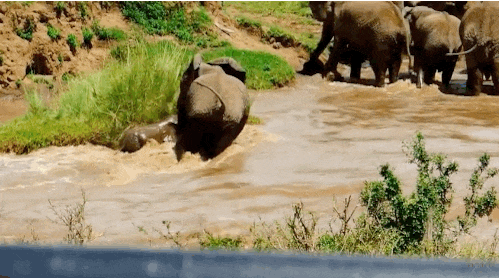 But she's not quite strong enough, and the little calf flounders, dipping beneath the water as she struggles to reach her family.
But just then mom realizes that her baby is in danger - and rushes in to help.

YouTube/Kicheche Camps
She grabs her tiny baby with her trunk and pulls her back towards the safety of the bank, shielding her from the current with the help of the adolescent elephant. Finally the baby reaches the shelter of mom's legs, and - as mom protectively stands up current - she clambers safely onto the bank.
YouTube/Kicheche Camps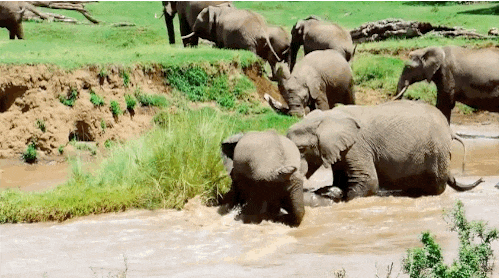 Growing up always has its risks - and in the elephant world, one of those is learning to safely cross rivers. Fortunately this little calf has a very protective mom looking out for her as she learns how to navigate the big, wide world.
The video's best watched in full - you can see it below.