Elephant Expert Told USDA To Seize Nosey 1 Year Ago, But Nosey Is Still Suffering!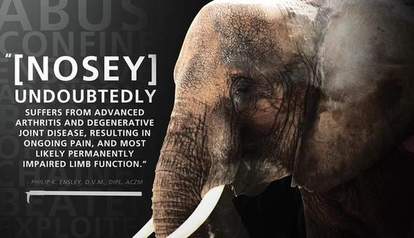 Can you believe it's been 1 year since elephant expert/specialist vet Dr Philip Ensley, who has 30 years clinical experience in zoo and wild animal medicine,and has spent the past fourteen years focused on animal welfare cases involving elephants and other species, wrote his report about Nosey.

In his report Dr. Ensley called Nosey's case
The worst, most prolonged documented example of unalleviated suffering and abuse in an elephant that I have ever reviewed. Nosey is in critical condition, requiring immediate, appropriate veterinary care and relocation to a facility that can provide for her special needs.
You can read & share Dr Philip Ensley's full report on the link below, Assessment and Opinion Concerning the African Elephant "Nosey" ~ Philip K. Ensley (DVM, Dipl. ACZM) March 18th 2014.
Also, in September last year, Dr Philip Ensley and attorneys from the PETA Foundation and its Captive Animal Law Enforcement (CALE) division attended a meeting with USDA officials, Mr Shea & Dr Gipson, to demand that the agency take Nosey and other crippled elephants off the road.
Read more about this meeting on PETA's blog: USDA 'Indifferent' to Nosey's Suffering
Following this meeting, Dr Ensley was so appalled at the USDA officials indifference to Nosey's suffering that he wrote a letter to the Secretary of Agriculture Tom Vilsack in which he called out the USDA's "negligence and incompetence" for failing to take any action to help Nosey. In his letter he wrote,
My chief concern following the meeting of 29 September is the complete breakdown at every level by USDA/APHIS personnel from the head of USDA/APHIS on down to the inspectors who performed recent inspections on Nosey that resulted in a failure to recognize and report arthritis and progressive osteoarthritis, often referred to as degenerative joint disease.
Here is Dr Philip Ensley's full letter to Secretary of Agriculture Tom Vilsack ~ Feel free to read & share it.
In the past 12 months nothing has changed for Nosey! The USDA's inaction allows Nosey to continue to suffer, which is completely unacceptable!
The Elephant Sanctuary in Tennessee (TES) are ready & waiting to accept Nosey Please take action to help get Nosey retired to TES. You'll find many things you can do to help Nosey on the following links:
The 'Action for Nosey Now' blog
'Action for Nosey Now' on Facebook