In 1993, a 1-month-old elephant calf fell into a latrine ditch in Tsavo West National Park in Kenya. Separated from her herd, she had to be rescued and was raised by caretakers at the David Sheldrick Wildlife Trust (DSWT), a home for other orphaned elephants like her.
Since then, Emily has been reintroduced to the wild, and become the matriarch of a band of 22 independent orphans, all of whom have transitioned into the wild after their own near-death experiences. The former orphan has become something of a celebrity in the elephant world, starring in the BBC's "Elephant Diaries" and even surviving a poaching attack. Now, Emily's story has taken even a better turn: On Dec. 23, she gave birth to her second wild-born calf (her first was born in 2008 and is thriving in the herd).
Perhaps in an effort to pay homage to the people who saved her, Emily returned to an area near the stockades at DSWT where she was once cared for to deliver her calf. The staff was shocked to see the pregnant elephant rumbling in, accompanied by a herd of frenetic elephants, all expectantly awaiting the newborn's arrival.
While most elephant births occur at night, this one happened in the daytime, to the delight of onlookers. The rare footage shows the calf's very first steps - and the congregation of happy herd members swarming around her.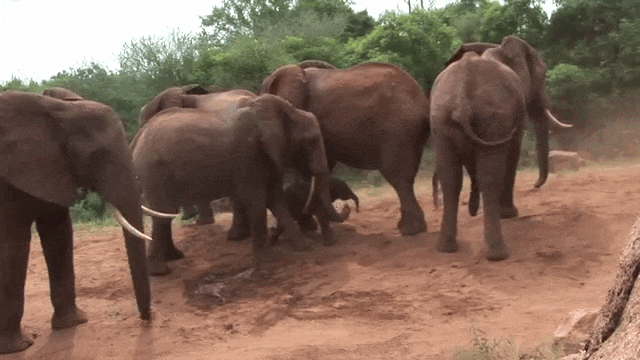 Angela Sheldrick, executive director of the DSWT, said in a statement that "the birth was filled with trumpets and rumbles of joy from Emily's own herd of ex-orphaned elephant friends who had accompanied her back, all of whom were eager to carefully help the new precious bundle to its feet, nudging it gently, and using their trunks to lift the baby."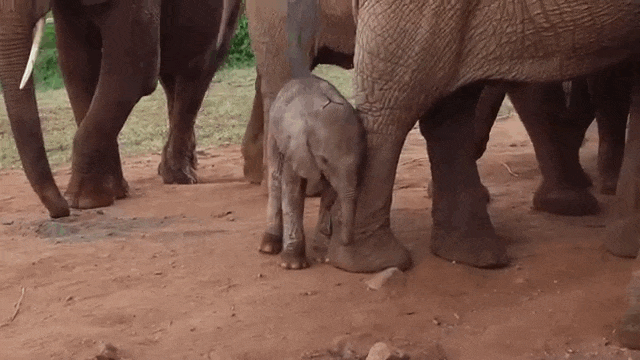 The new calf, named Emma by the DSWT staff, is a welcome addition, as elephant populations have been declining due to a sharp uptick in poaching in recent years. Now, one elephant is killed every 15 minutes for his ivory tusks, and the population is down to just 350,000 African elephants. But happily, there are people dedicating their lives to making sure elephants orphaned by poachers have full lives in the wild - and even calves of their own.
WARNING: Graphic Content Below
See the video of Emma's first steps below (the beginning of the video shows graphic footage of her birth):
https://www.youtube.com/watch?v=6FowqjCrZMY