Elderly Dolphin With Cancer Forced To Drag Tourists On His Back
<p><a href="http://www.afd.org.au/" target="_blank">Australia for Dolphins</a></p>
Most people couldn't imagine working into their 80s, let alone being forced to work. Yet this is pretty much what's happening to a captive bottlenose dolphin named Bucky, who lives at Dolphin Marine Magic, a marine park in Coffs Harbour, Australia.
Bucky was only 6 months old when he was rescued in 1970 by the original founder of Dolphin Marine Magic, Hec Goodall. According to a report, Bucky had been stranded in the Nambucca River in New South Wales, Australia, and was badly dehydrated and sunburned. But instead of being rehabilitated and released back into the wild, Bucky has spent his entire life at the marine park.
Bucky is now 47 years old. With a dolphin's average life span being anywhere between 40 and 50 years old, he'd be the human equivalent of 80-something.
What's more, Bucky has cancer. His condition was first reported to the public in a 2013 episode of "Bondi Vet," a TV series presented by Dr. Chris Brown in Australia. Bucky's trainer, Greg Pickering, asked Brown to come check out a few lumps in Bucky's mouth, which Brown confirmed to be cancer.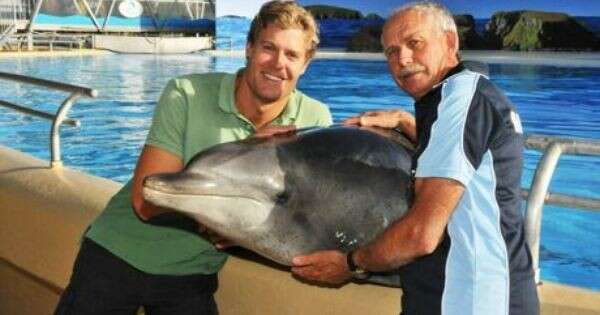 Instead of being allowed to take it easy, Bucky is forced to perform regular shows, which involve jumping through hoops and doing flips for tourists. He also participates in swim-with-dolphin programs, dragging people across the pool on his back, and offering paying guests "dolphin kisses."
"There are two to three shows per day," Sarah Lucas, CEO of Australia for Dolphins, tells The Dodo. "When we spoke to a staff member, he said Bucky does most shows, but we don't know how many he does per day precisely."
Paige Sinclair, the CEO of Dolphin Marine Magic, denies that Bucky is overworked. In a recent investigative piece published by the Australian public broadcasting network SBS, Sinclair claims that the resident dolphins perform on a rotating roster, getting regular days off. Sinclair also asserts that the dolphin shows offer the animals necessary enrichment.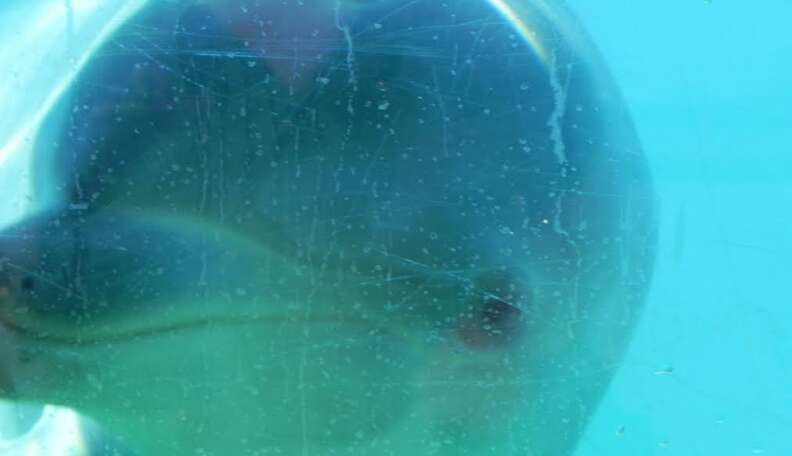 Lucas, however, thinks Bucky's forced participation in dolphin shows has less to do with enrichment, and more to with profit. "Bucky is considered the star performer," Lucas tells The Dodo. "As with all aspects of dolphin captivity, the animals are used because they draw in crowds, and thus draw in money for the park."
Marine Dolphin Magic is also steeped in controversy over the recent death of a 1-year-old dolphin, Ji-Ling, who was one of Bucky's three children. Ji-Ling died after he consumed leaves, sticks and a piece of metal in one of the park's two tanks. A staff member had tried to remove these items from the baby dolphin's stomach, but Ji-Ling died from a heart attack during the procedure.
Bucky lives inside the same two tanks at the park - the tanks that killed Ji-Ling.
Australia for Dolphins is calling for Dolphin Marine Magic to end its controversial breeding program, and release all of the remaining dolphins into sea pens. "Such a facility would provide a far more humane and natural environment for the animals," says Lucas, "free from chlorine and with much more space."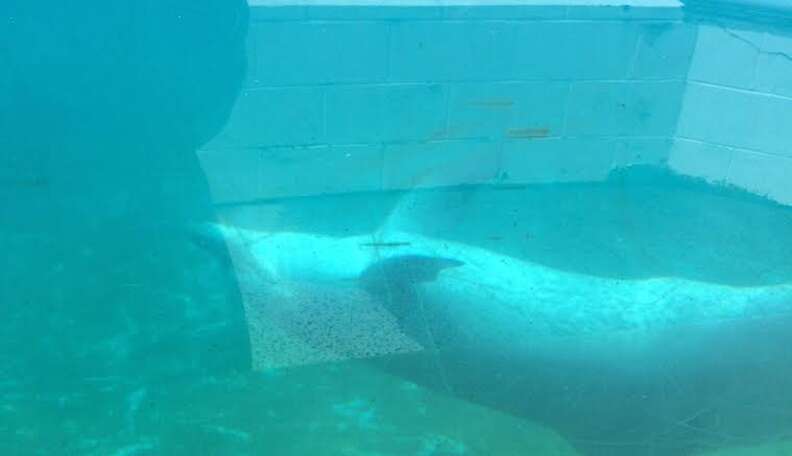 Dolphin Marine Magic is one of two marine parks in Australia that keeps captive dolphins, the other being Sea World on the Gold Coast in Queensland.
"In a nutshell, we think it's unfair that Bucky be forced to perform due to the growing body of scientific evidence which concludes that cetaceans suffer in captivity," Lucas tells The Dodo. "If you add into the equation the fact that Bucky is recovering from cancer, it is beyond belief that he still participates in outdated, circus-style shows."
"It breaks our hearts to know that this highly intelligent animal has spent more than 45 years swimming between two tiny concrete pools," says Lucas. "In addition to his daily duties of jumping through hoops and dragging tourists around on his back, he has had to contend with cancer and the other physical ailments that come with being an animal of such old age."
You can help support the work of Australia for Dolphins by donating here, and you can sign a petition to end dolphin suffering at Dolphin Marine Magic in Coffs Harbour.
Read more here about why people who love dolphins should never swim with them.