Imagine your puppy barking for a short time. You would definitely think it sounds cute. Now, again try to imagine your puppy barking for over a long period of time. There is no doubt that you would think it is annoying. You would also start worrying that the neighbors might overhear your puppy. The truth is, puppies bark for certain reasons. However, this should not be a cause for worry. In fact, there are actually some very simple steps that you can follow so that your puppy will stop barking. Consider the following steps:
First Step: Check out the cause of the barking.
Apart from using barking as a sign of communicating, puppies have a tendency to bark when they hear some sounds, meet a stranger for the first time, want to protect their territory or your area from passersby, warn their masters about something strange or interesting. Try to see which of these might be causing your pet to bark at the moment.
Second Step: Observe the reasons and time of day when your puppy barks.
Keep a record of the times when your puppy usually barks as well as the reasons why he barks. By doing so, you will have an idea and can teach your canine pet when to bark or when to stop barking.
Third Step: Teach your puppy when to bark.
Now that you have an idea what makes your puppy bark, you can make use of this situation to teach him when to bark at your command. For instance, you notice that your canine pet loves to bark when your neighbor visits you at home. You can request your neighbor to visit you again. Once your neighbor reaches your doorstep, say the word "bark" a bit louder to your pet. Your pet will bark at your command since he barks at the sight of your neighbor in the first place, and he can also notice your voice.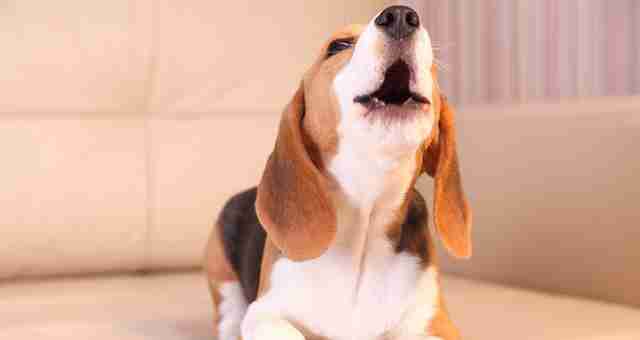 Fourth Step: Give your puppy a gesture that signals your praise.
You can say something nice to your puppy and pat him on the head at the same time to show that you approve his barking. Ask your neighbor to try one more time. Once your neighbor is approaching your doorstep, mention the word "bark" a bit louder. Your pet will keep barking and notice your voice again as well.
Fifth Step: Tell your puppy to stop barking.
Your puppy will keep on barking for a while, especially when your neighbor is still around. Before he could stop barking, you should say the word "hush" a bit louder for your puppy to hear. Right after saying the word "hush," show him some delicious dog food snacks. The barking will stop since he will want to try them. Once the barking stops, say something nice to him and pat him on the head again. You can then allow him to eat the snacks.
Sixth Step: Follow the same steps, from the third step to the fifth step.
You should try to do the third step up to the fifth step over and over again for a week. Your puppy will learn as the days go by. Keep in mind though that there are some modifications that you need to consider, especially regarding the time for giving the dog food snacks. You can train your pet to keep silent for a little longer each time. You can do this by simply making him wait for a little longer before you offer the dog food snacks. The waiting period will actually keep him silent.
Seventh Step: Try to check if your puppy understands the commands.
After around a week of training, your puppy must have already understood your commands. Try it by mentioning the word "bark" and "hush" alternately several times to him even if your neighbor is not around. You will have an idea whether or not your canine pet recognizes the commands by checking out how he responds. If he starts barking right after you mention the word "bark" and stops at once after you mention the word "hush," then that's a sign that you have successfully trained your pet when to bark and when to keep silent.
Eight Step: If your puppy has a hard time following your commands after a week of training, just be patient. Just continue doing the steps above, from the third step to the seventh step. You may also try to make use of a different situation in the third step. Who knows? Your puppy might be able to learn faster when you use a different situation for your training. Just don't give up because your puppy is still young and can learn your commands sooner or later.
In a nutshell, you have to keep in mind that barking is part of your puppy's life. You just have to live with it since you own a puppy. However, if you think your puppy barks too much, getting mad at your puppy is not the best solution. You can simply make use of the foregoing steps. You will be amazed at the results. Try them and see for yourself!
Written By Liam on Your Pet Land