Dying Woman's Last Wish Is To Find Homes For Her Rescue Dogs
"All they know is love."
When Gloria Gutierrez was diagnosed with terminal cancer and had to go into hospice, she wasn't overly concerned about what would happen to herself. She was more worried about where her six rescue dogs - Vera, Brandy, Light, Mega, Bruno and Muñeca - would go after she passed away.
Gloria Gutierrez with her dog Brandy

| God's Dog Rescue
"She calls these dogs her babies, and she wants to be around them all of the time," Rachel Cannady, a volunteer with God's Dog Rescue, an organization helping to rehome Gutierrez's dogs, told The Dodo. "She's is somewhat coherent of things, but she's acutely aware of the dogs, and she's protective of them."
Gutierrez picked up all six dogs from the streets of San Antonio, Texas, after they'd been abandoned by their owners.
God's Dog Rescue
But it's 3-year-old Muñeca who may have the saddest story of them all. After her owner went to jail, she was left all alone, and she got hit by a car when she tried to cross a highway.
Muñeca

| God's Dog Rescue
"She's totally crippled and drags her hind legs when she walks," Vicky Esparza, Gutierrez's daughter, wrote in an email to Cannady. "We found her in a real bad state of mange. She was hiding under a filthy trailer home full of rats, and maybe she was eating rats because all the people there would not feed her and would throw rocks at her instead."
Bruno

| God's Dog Rescue
But with Gutierrez, Muñeca got unconditional love and attention. All the dogs did.
"All they know is love," Esparza told The Dodo. "My mother has always kept them with her, and they stay in the bed with her."
God's Dog Rescue
Unfortunately, Esparza is very ill herself, and she already has a couple dogs to care for, so adopting her mother's dogs would be difficult.
With Cannady's help, Vera and Bruno now have homes lined up for them, but Brandy, Light, Mega and Muñeca still need places to go.
Mega and Vera

| God's Dog Rescue
"I don't want anything to happen to these dogs because my mother was always so concerned and worried about her pets," Esparza said. "I know it means a great deal for her for them to be OK, and for them to go to good homes with good, loving families."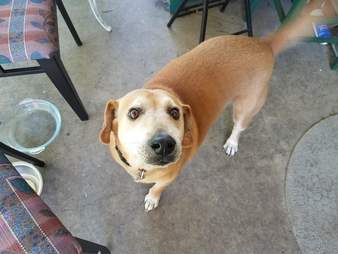 Light

| God's Dog Rescue
Esparza's only request is that the dogs stay with Gutierrez until she passes away.
Brandy

| God's Dog Rescue
"They're her life," Esparza said. "With everything that's going on there, she doesn't want her dogs to go away. She wants her dogs to be there with her."
If you have a home to offer Brandy, Light, Mega or Muñeca, please email Jamesa Hill at Roxysrescue@yahoo.com, or contact Roxy's K9 Rescue.