Dying Bull Is Comforted In Last Moments Despite Bullfighters' Protests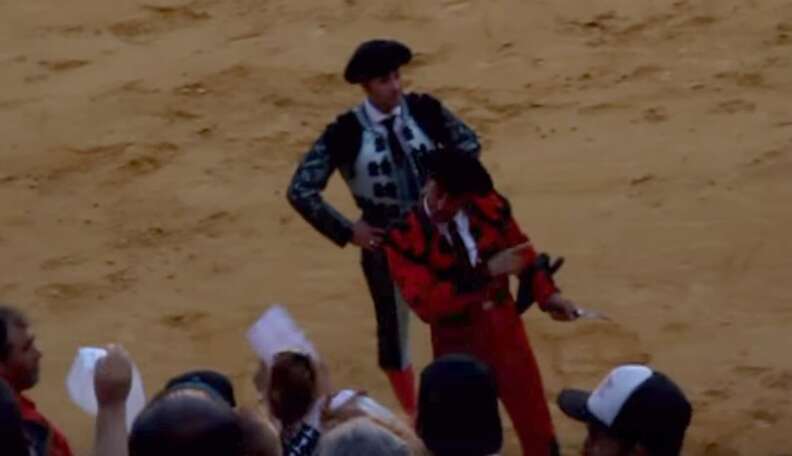 <p> Youtube.com/ColectivoAntitaurinoMarbella <span></span> </p>
In an extraordinary act of bravery, an animal rights activist jumped into the Malagueta bullfighting ring to comfort a dying bull in Malaga, Spain, yesterday. For a few moments, Virginia Ruiz, 38, was able to lay her body over the bull and shield him before arena officials and fans violently hauled her away. "I could hear him crying in pain and I jumped down, walked across the ring to where he lay dying," Ms. Ruiz explained to me via Skype this morning. "He looked at me and I believe he felt my energy. I wanted to give him love before he left this earth," she said.
As she was pulled off the bull, the crowd of bullfighting fans jeered, yelling "fuera!" ("get out") in unison. "They called me names," said Ruiz, "they kicked me, they spit on me, they told me to go back to the kitchen and they called me a whore."
The bull was stabbed to death.
Ms. Ruiz attended the bullfight alone on a day that had free admission - she did not buy a ticket to enter the 9,000-seat arena. She claimed her intention was to merely film the cruelty in the ring, which was only three-fourths full despite the free admission yesterday.
Impulsively, when she heard the bull cry out, she jumped down and walked toward him. "Because I was walking, not running, they [the crowd] didn't yet realize I am an activist until I got very close to the bull," said Ruiz. "He was still alive before they could do the final stabbing with the small knife in the back of the neck. He was crying, he tried looking at the people," she said.
Ms. Ruiz, who has been an anti-bullfighting activist since 2008, said there were at most, only 1,500 people in the ring. The side of the arena which was in the sun was empty and the shady side was only three-fourths full, she said, including "many children in attendance."
"We want for America to know what is happening here. Hemingway was wrong about this whole barbaric tradition. We feel ashamed. It doesn't represent us. There is more to Spain than bullfighting. We are a wonderful people. We are seen as a third world country instead of European."
Watch video of Ms. Ruiz walk through the ring here:
After Ms. Ruiz was violently escorted out and held illegally, she was grilled on the spot by local police, who noted her address. She will be receiving a notice for trespassing and will have to pay a fine of up to 6,000 Euros ( approx. $6,700).
The European parliament subsidizes the blood sport of bullfighting with up to a reported 600 million Euros (approx. $665,000,000) per year.
"I feel I was doing the right thing," said Ms. Ruiz. "He knew I was fighting for his rights."