Duke may have some troubles - but it doesn't keep him from being a great friend.
After he was rescued from a slaughterhouse, Duke Bullock, who suffers from dwarfism, needed special care to survive - so Calf Sanctuary in the U.K. offered Duke a loving home.
"We have spent months rehabilitating him, with a special shelter, hoisting system and a wheel cart made," Sharon Lawlor, founder of the Calf Sanctuary, told The Dodo in January.
And Duke has places to go and animals to see. When he spots his best friend, Kevin the sheep, he comes running ...
Calf Sanctuary
... and lands a few kisses on Kevin's head.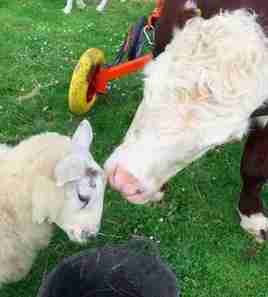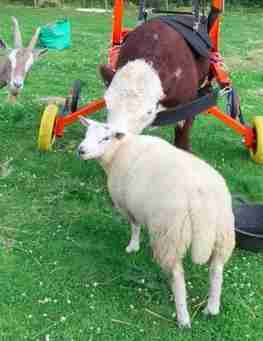 "We've had some amazing support, from all over the world, and to raise what we have already is fantastic," Sharon Lawlor wrote in a press release. "But if we don't get the full amount by the end of the month then we risk losing this chance to secure a forever home for Duke ... and all of our rescued family."
Lawlor has found the perfect place, which she hopes to open up to the public for visitors. She just has to gather the much-needed funds get there.