He Can't Take His Eyes Off The Woman Who Saved Him
It's no wonder Ducky can't take his eyes off the one who rescued him.
After all, he was likely driven to a field, coaxed from a car and then simply left there.
When he did find love, perhaps for the first time in his life, Ducky would never lose sight of it. Literally.
This is Ducky, just hours after being rescued, with Trisha Aleve of the Canadian Chihuahua Rescue & Transport (CCRT).
Eyes locked. Love loaded. A lucky Ducky indeed.
Ducky meets his foster mom.Pawsome Pet Photography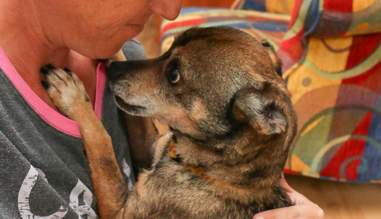 Ducky meets his foster mom.

| Pawsome Pet Photography
"His eyes are always on me," Aleve tells The Dodo. "He just has so much love to give and wants to receive attention every minute I am around."
After he was found wandering around an Ontario field, the Chihuahua was taken to a local shelter. Once there, he flashed aggressive behavior and was deemed "rescue only.'"
Ducky didn't take long to warm up to his rescuer.Pawsome Pet Photography
Ducky didn't take long to warm up to his rescuer.

| Pawsome Pet Photography
That's when he found himself in foster care with Aleve.
"It didn't take him long [for him] to think that being here was great and that I was the best thing in the world," Aleve says. "So, [in] almost all his photos he looks happy. As you can see, he was very grateful and gave me some hugs and kisses [his] first day in."
At just 13 pounds, Ducky is every inch the charmer. And rather obsessively grateful to find himself wanted.
When Ducky first landed at CCRT, there was a brief flurry of interest in the 8-year-old castaway. Aleve thought he might find a permanent home in relatively short time.
Although he's described as acting much younger than his 8 years of age, he's still, sadly, not a prime candidate for potential adoption.
So he waits. And he licks. And he keeps his eyes firmly fixed on the prize.
Pawsome Pet Photography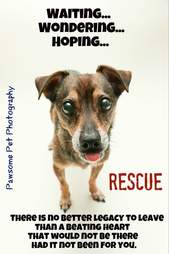 Pawsome Pet Photography