This Is The Moment He Realizes He's Free
Matisse and Monet are living definitions of the expression "lucky duck."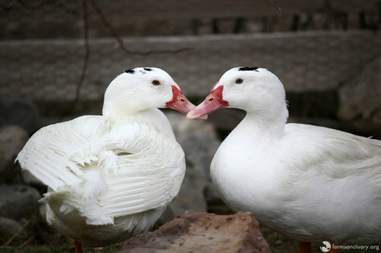 Farm Sanctuary
These friends were rescued from a foie gras farm in 2012.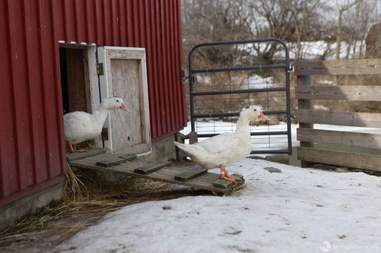 Farm Sanctuary
And they were brought to a little heaven on earth for rescued farm animals: Farm Sanctuary in upstate New York.
The details of the act that saved their lives are shrouded in mystery - the people at the sanctuary found them after someone had dropped them off in the middle of the night.
Farm Sanctuary
But given Matisse and Monet's conditions, there was no mystery about where they came from - a packed farm where they hardly had room to turn around, let alone spread their wings.
Ducks at a foie gras farm.

| Farm Sanctuary
At first, too scared to do anything but huddle together in a corner, Matisse and Monet still showed the marks of their struggles.
Farm Sanctuary
But soon they warmed up to their rescuers - and their lucky new lives at the sanctuary.
Farm Sanctuary
But they still don't ever leave each other's side.
Matisse and Monet have come such a long way since 2012.
Farm Sanctuary
Rescuers will never forget where these lucky ducks came from - but they also will never forget the moment Matisse seemed to finally realize he was safe.
"At the end of Matisse's exam, he stood on the scale and flapped his wings - likely for the first time ever," Farm Sanctuary writes.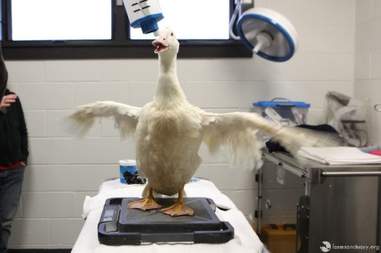 Farm Sanctuary
"Although his feathers were broken and his wings were in rough shape, he seemed so proud at that moment."