Drunk Men Intentionally Kill Wombat Family, And This Baby Survives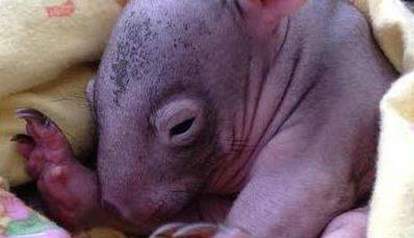 <p> <a href="https://www.facebook.com/Wildlife.Rescue.SC/photos/pb.348927965158960.-2207520000.1442839928./1055500054501744/?type=3&theater" target="_blank">Facebook/Wildlife Rescue South Coast Inc</a> </p>
This baby wombat is the only survivor after a bunch of drunk men apparently ran over her whole family for fun.
Ten wombats, including four nursing mothers, were killed at a campground in Kangaroo Valley in Australia on Saturday night, when a group of men decided to entertain themselves in the sickest way.
After drinking heavily, one of the men got in his car and deliberately ran over the animals until they were dead. "We've been coming here about 15 years and have never seen anything like this before," a witness told The Sydney Morning Herald. "The wombats are quiet and come right up to the campsites. It's very distressing to see people do that."
Lucky, the only survivor, was found alive in his deceased mother's pouch. She was taken to Wildlife Rescue South Coast (WRSC) for treatment. "Lucky is in care with WRSC carers," Shannon, of WRSC, told The Dodo in a Facebook message, "and will be in care for approx another 18 months."
"After the tragedy that unfolded over the weekend I think I can safely say that little 'Lucky' has touched the hearts of all Australians," the rescue organization wrote on Facebook. "Whilst Lucky remains in care with WRSC we will endeavour to keep you updated with her progress as much as we can. She has a long way to go yet but is in the best possible hands."
The police are still investigating the incident, and the inspector told The Sydney Morning Herald that animal cruelty was unacceptable. No arrests have been made as of Monday morning.