Earlier today, kindhearted beachgoers set aside their plans for a bit of fun in the sun along the sandy coast of Ponce Inlet, Florida to instead lend a hand to an animal in desperate need of help.
Overnight, the receding tide along had left an endangered manatee stranded, with no protection from the scorching summer sun. Passersby did their best to shade the animal, keeping its skin moist with buckets of water, before officials from Florida Fish and Wildlife arrived to coordinate the crowd to help lift the manatee back out to sea.
Using a tarp, the group all pulled together to inch the 1,000 pound manatee towards the water.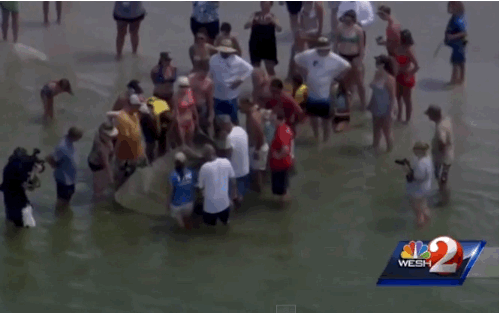 Fortunately, thanks to their effort, the manatee was able to swim away, seeming a little exhausted from the ordeal, but no worse for the wear.