In a big city, a wall of windows looking out into a lush green courtyard may sound beautiful, but it is deadly to birds. The windows reflect their surroundings, confusing birds and causing deadly head-on collisions. This double-crested cormorant was found trapped in a garden courtyard of Canarsie High School in Brooklyn, New York, dazed from a collision with the glass, and far from any water source. "I caught him pretty easily," says the rescuer, "and I was amazed at how beautiful those eyes were, I have never seen anything like it."
Photo by Fred Cohen Photography
Warning: Cormorants can strike lightning fast at your eyes. This is their normal defensive behavior. Fortunately for the rescuer, the bird was disoriented as a result of his accident. In the photo below, a wildlife rehabilitator at the Wild Bird Fund is testing "Old Blue Eyes" vision and reflexes (at a safe distance!). His aggressive strike reaction is essential for him to survive in the wild.
Photo by Fred Cohen Photography
It's only close up that you can see the striking patterned plumage and iridescent coloring of double-crested cormorants (Phalacrocorax auritus), who are migratory waterbirds that spend their winters on the Gulf Coast and their summers in fresh water lakes across the Northeast. New York City lies on the Atlantic ancient migratory flyway, and although the parks and bodies of water seem an oasis to birds traveling this route, the city's buildings and skyscrapers create an obstacle course particularly hazardous to first-year migrants.
At the Wild Bird Fund, the cormorant was treated for dehydration and was put on a hearty diet of fish, monitored for long-term brain injury, and got twice daily swims in the rehabilitation pool. Cormorants are expert divers, and unlike most water birds their feathers actually trap water to reduce buoyancy, allowing them to reach depths of up to 20 feet. Afterward they stand with wings stretched out to dry by the sun.
Photo by Nathan Place The double-crested cormorant was successfully released in NYC's Jamaica Bay Wildlife Refuge. This urban bird sanctuary located in Queens is the only wildlife refuge in the National Park system. Adult birds from the Wild Bird Fund are normally released back to the area where they are found, but the lack of a water source and the danger of the buildings meant a location on the harbor would be preferable..
Photo by Nathan Place The cormorant flew out the minute the box was opened, barely touching the ground before arching out over the water, the tips of his wings skimming the surface. It wasn't long before another pair of cormorants came to join him, say hello, and welcome him to the lake. After 15 minutes the three birds were diving together, and our double-crested cormorant was home.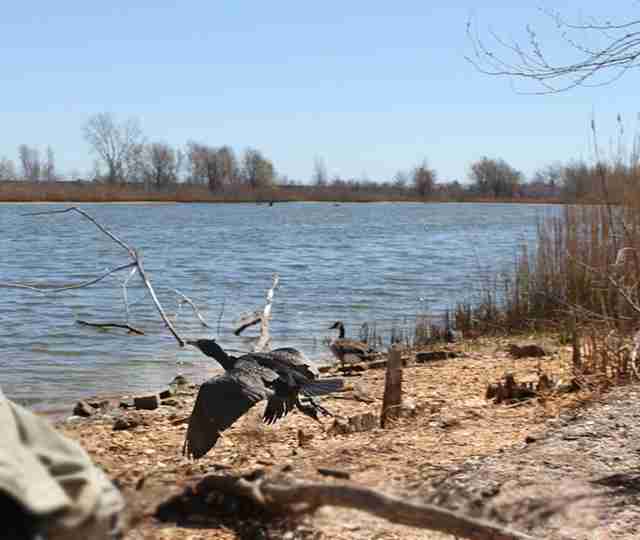 Photo by Nathan Place Reduce the chance that a bird will collide into your windows by placing decals and sun catchers on the outside of your window and hanging sheer curtains or blinds on the inside to minimize reflections. For more ways to protect birds from buildings, please visit www.flap.org