Steamy New Ad Delivers Disturbing Blow To Beloved Super Bowl Snack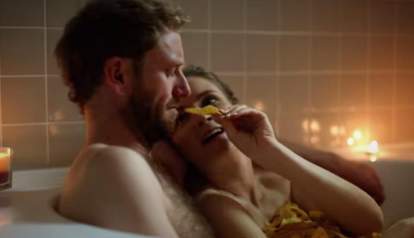 <p> <a class="checked-link" href="http://www.flickr.com/photos/damn16/3762898910/in/photolist-8CsjuN-4pwBn6-4G2dHG-9uJ3T-8v3tyL-6JvQKq-9AzWgK-avUKsk-dG4heU-EaVVy-o3Lggy-on4eVv-ok6J4d-okdM1u-okghnm-on1Jc6-on1LbX-bDsYpK-nYFXXu-p7qrvt-okfFKP-ojY8W6-okdLWb-ok4e8m-o3NKiS-o3NqF3-on4eAT-on1KNH-okdLFS-nSX84b-oigqyC-9fv1To-oidX5J-okfEEx-okfCWT-oidUXY-okdLv1-o3M95X-oidY1b-oarJjK-6eELeg-okfDiV-o3KUZy-ok4dzY-o3L9ak-okfD5P-o3M5rz-okdHWo-o3KTBJ-fhbLG6">Flickr/kundi</a><span></span> </p>
A steamy new video campaign released ahead of the Super Bowl has one rather tasty target: Doritos. Production of the seasoned tortilla chips reportedly contributes to the loss of orangutans, elephants and other animals.
The chips contain oil harvested from the pulp of the fruit of an oil palm tree - in this case, a variety of oil palm that's produced mostly in Indonesia and Malaysia.
"Rain forests across Southeast Asia are destroyed every day to make way for massive palm oil plantations," said Kaytee Riek, the campaigns director at SumOfUs, the organization behind the campaign. SumOfUs is asking PepsiCo, the parent company of Doritos, to take a stand against the destruction of critical wildlife habitat.
The campaign coincides with the annual Doritos Crash The Super Bowl commercial competition, a callout that offers people the chance to air their homemade commercial in the Super Bowl.
Hundreds, if not thousands, of rows of oil palms are planted on Asian plantations, but they've destroyed the forests, which were once teeming with species who had populated the area for millions of years: orangutans, Asian elephants and scores of birds and amphibians who are not found anywhere else.
The expansion of the unsustainable palm oil plantations threatens to wipe out what remains of the area's dwindling biodiversity.
SumofUs's new campaign calls on Pepsi, who purchases 427,500 tons of palm oil every year, to stop buying unsustainable oil. Many other companies - such as Ferrero, Kellogg's, Mars, Nestle and P&G; - adopted pledges in 2014 saying they would use conflict-free, sustainable palm oil.
A petition asking PepsiCo to put a stop to deforestation has already gained more than 250,000 signatures.
PepsiCo has made some effort to source better palm oil. Last year, the company pledged that by 2015 it would buy only oil that was certified by the Roundtable for Sustainable Palm Oil, though it's unclear if that has happened yet. And, as Greenpeace pointed out, the commitment did not guarantee that the supply chain would be free of deforestation or social conflict - two things that are key for a responsible palm oil plantation. The organization called PepsiCo one of the least "forest-friendly" global consumers of palm oil.
Jake Dylik, a spokesperson for PepsiCo, told The Dodo in an email that it refutes the allegations, saying that other organizations have applauded the changes to their palm oil policy:
"PepsiCo has repeatedly stated that we are absolutely committed to 100% sustainable palm oil in 2015 and to zero deforestation in our activities and sourcing. This latest public relations stunt, focused on fiction rather than facts, does nothing to foster positive dialogue or affect positive change. We find our policies effective and stand by them."
UPDATE - This post has been updated to include a comment from PepsiCo.